The 42-day break would give Kohli the time to introspect, and rejuvenate his cluttered mind.
Exceptionally gifted batters often talk about being 'in the zone'.
It is when time comes to a standstill, and everything they hit finds the middle of the bat.
The pitch doesn't look treacherous, and bowlers simply witness the carnage as mute spectators.
Virat Kohli has been 'in the zone' this World Cup, given his run-looting spree.
In fact, he has also resembled a runaway train, smashing one record after another with devilish glee.
On November 5, 2023, the day he turned 35, Kohli notched up his 49th ODI century against South Africa at the Eden Gardens in Kolkata.
In doing so, he equalled the tally of ODI centuries with his idol, Sachin Tendulkar.
It is a staggering piece of statistical nugget that further embellishes Kohli's glorious career.
Yet, sometime in January 2022, Kohli, the modern cricketing titan, looked flustered, knackered, and a pale shadow of his usually belligerent self. The man known for theatre looked unusually sullen.
He had been unceremoniously removed as ODI captain, hours before the team selection for the South Africa tour.
As a batsman, his form had dipped from the lofty peaks during the pre-pandemic days. His last Test century had come 26 months ago (in November 2019) against Bangladesh.
In July 2022, Kohli announced that he was taking a break from cricket. It sent jitters amongst his ardent fans.
Some Delhi and District Cricket Association officials, who had watched him take baby steps at the Feroz Shah Kotla Stadium (now called the Arun Jaitley stadium) as a teenager, were also surprised.
The boy from West Delhi had never missed a match in his life. He had even walked out to bat for a Ranji Trophy tie the day after his father's demise.
The 42-day break would give Kohli the time to introspect, and rejuvenate his cluttered mind.
In an intimate interview to Star Sports, Kohli opened up on why he took that break from the game.
'This is the first time in 10 years that I have not touched the bat in a whole month,' he said.
'When I sat down and thought about it, I was like I haven't actually touched a bat for 30 days, which I haven't done ever in my life. That's when I came to the realisation that I was kind of trying to fake my intensity a bit recently.'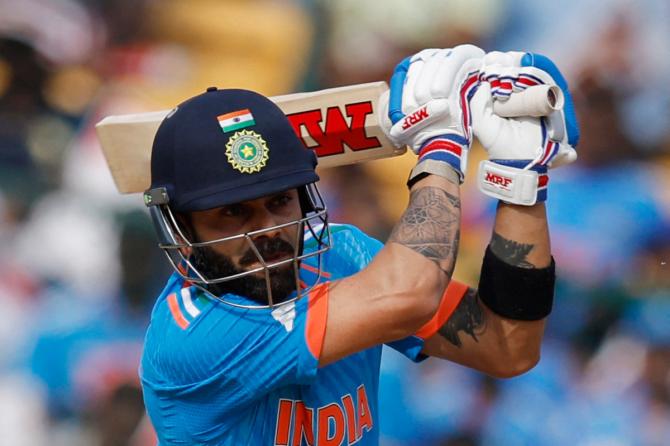 In the interview, Kohli said even superheroes have limits to where they can push themselves.
'I have been looked at as a guy who is mentally very strong, and I am, but everyone has a limit, and you need to recognise that limit, otherwise things can get unhealthy for you. So, this period taught me a lot of things that I was not allowing to come to the surface,' he explained.
During the break, Kohli would catch up with family, friends, and unwind. However, he would never miss out on his gruelling training sessions, which helped him attain such envious fitness levels.
The former India captain's return to international cricket could not have been more dramatic.
During the 2022 ICC World T20 match against Pakistan in Melbourne, he orchestrated one of the greatest run chases, scoring a masterful unbeaten 53-ball 82.
What sent fans into frenzy were the two out-of-the-world sixes against Pakistani pacer Haris Rauf, when India required 28 to win off eight deliveries in that chase.
Kohli has not looked back since. The smile is back. The swagger and the theatrics as well.
Sarvpreet Singh, a former Delhi cricketer who has spent his childhood with Kohli at the same academy in West Delhi, believed hard work and determination are the reasons for his success.
"We keep saying Kohli is talented, but he has achieved success because of hard work and an eagerness to improve," Singh told Business Standard.
"Look at his fitness levels. Even when he took a break from cricket, he never skipped his training sessions."
His fitness could help him prolong his career, long after some of his illustrious peers have hung up their boots.
"I know for a fact that Kohli has set his sights on playing in the 2028 Olympics in Los Angeles. He will be 40 by then, but he will be fit," a DDCA official who did not want to be named said.
An Olympic gold medal in cricket. Now that's a record Kohli would like to smash with his trademark devilish glee.

Akshara Srivastava adds…
Brands love him. Some have even described him as the world's most marketable cricketer.
For five years in a row, from 2017 to 2021, he has topped Kroll's celebrity valuation report, though he slipped to the second slot, behind actor Ranveer Singh, in 2022.
With a valuation of $176.9 million, Virat Kohli is a brand to reckon with.
"Brand Kohli had a bit of a difficult run in 2022, given his relatively inconsistent on-field performance, because of which he was in and out of the team," says Aviral Jain, managing director, Kroll India.
But he is back with a bang now, giving "extraordinary 'Virat' performances in the ongoing World Cup and in earlier tournaments," Jain says.
Kohli, says brand consultant Samit Sinha, has always been in a league of his own.
"It's not just the sheer quality of his individual performance — which is top-notch — but also how consequential those performances have been for the team. They have always come at a time when India really needed to win the matches," says Sinha, founder, Alchemist Brand Consulting.
Kohli, he says, started off as a brash youngster, which also went in tandem with the self-image of India, which was finding a new, aggressive voice for itself.
"He has since obviously matured and mellowed down."
All of this has made him a sought-after celebrity for many brands.
He currently endorses more than 40 brands, including Myntra, Puma, MRF, Blue Star, and engine oil brand Valvoline.
"If India ends up winning the World Cup, riding on the superman that Kohli is, it will usher in a strong current for Brand Kohli for 2023 and beyond," says Jain.
"Some signs are already visible with new endorsement deals this year."
Feature Presentation: Aslam Hunani/Rediff.com
Source: Read Full Article