Sukanya Verma picks potential AB collectibles as Bollywood's most iconic star celebrates his 72nd birthday on October 11.
In posters and autographs, glimpses and encounters, countless viewings of his big screen heroics or fun-filled evenings of lock kar diya jaaye, a timeline broadcasting his enthusiastic social networking skills or that I-think-I-know-him feeling while going through his personal blog, Amitabh Bachchan has touched every Indian movie buff.
When an actor is loved as much as he is, it's only natural to want a piece of him in our lives.
And what better than a tangible token of the Big B's celluloid persona?
As the superstar turns 72 on October 11, here's celebrating the legend and his silver screen legacy with my wish list of 20 Bachchan collectibles, which ought to be on display as exhibits. But for now, enjoy them exclusively on Rediff.com
(Don't forget to contribute your picks on the message board below.)
1. The Eye Mask in Ajooba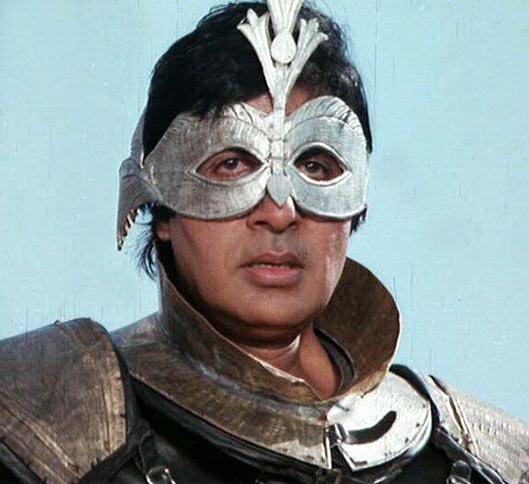 The costume fantasy's no-show at the box office could not erase Bachchan's swaggering image of a horse-riding messiah hiding his true identity behind a silver eye-mask.
2. The 786 Badge in Deewar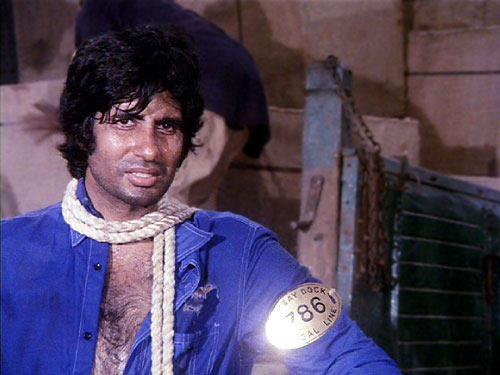 The religiously significant number on the badge protects Bachchan from harm's way rather fervently in Yash Chopra's Deewar till it drops off in the end.
3. The Telescope in Mili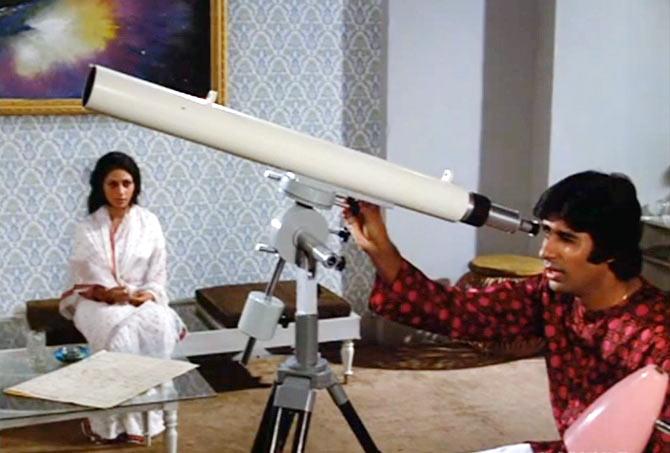 I just love how tenderly the romance develops between Amitabh and Jaya Bachchan around his high-end telescope in Hrishikesh Mukherjee's Mili.
And through this unlikely prop, how affectionately he lets her become privy to the world of stars and their stories while all the time weaving with its own.
4. The gamchaa in Coolie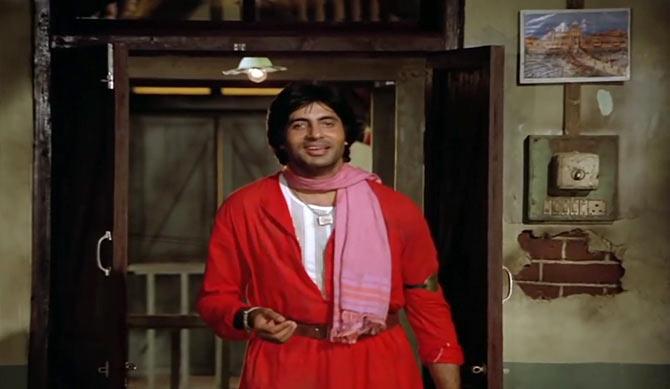 Long before Gangs of Wasseypur made gamchaas cool, Big B wrapped one around his neck with his trademark charm in and as Coolie and later on in Hum and Bunty Aur Babli.
5. The porcelain doll in Muqaddar Ka Sikander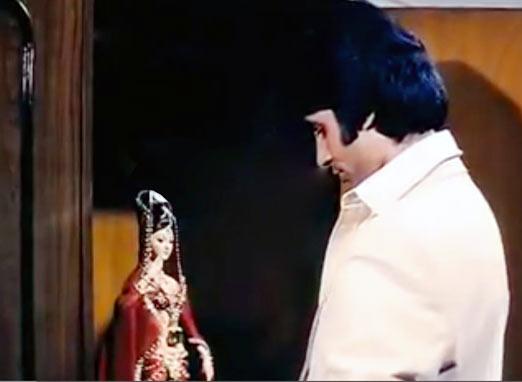 In Prakash Mehra's maudlin love quadrangle, Bachchan walks away with audience sympathy as a man who secretly adores his Memsaab and wants to gift her the said doll since he was a little boy.
6. The Glasses in Chupke Chupke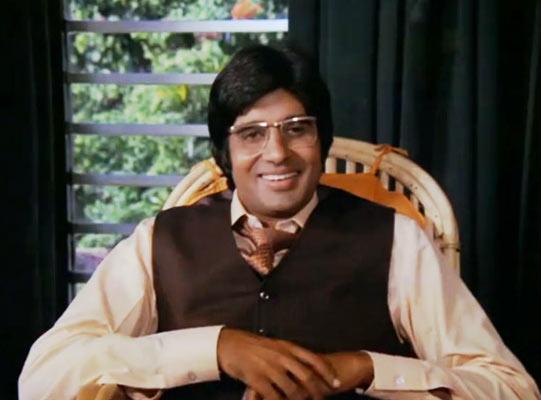 AB's nervous discomfort in masquerading as a Botany professor when his area of expertise is English literature is even more hilarious when he's constantly adjusting the ill fitting, oversized specs.
Nazarbattu, as he calls it, is part of the charade and it refuses to stay put on his nose.
7. The Cross Pendant in Amar Akbar Anthony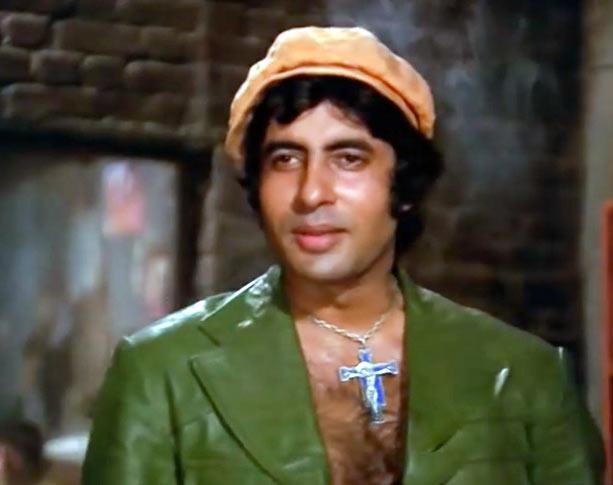 Since I've already picked the Easter egg through which AB's Anthony Gonsalves makes an unforgettable entry in Amar Akbar Anthony, I'll go with the cross his devout Catholic character sports all through this tale of lost and found brothers.
8. The Red Diary in Don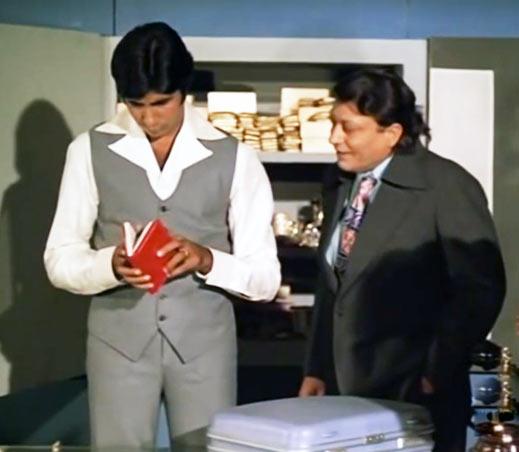 The coveted red diary, which contains all of the real Don's international contacts in the mafiaverse and has come in the possession of the lookalike Don, causes much stir among the film's bunch of baddies.
9. The Bulb Bodysuit in Yaarana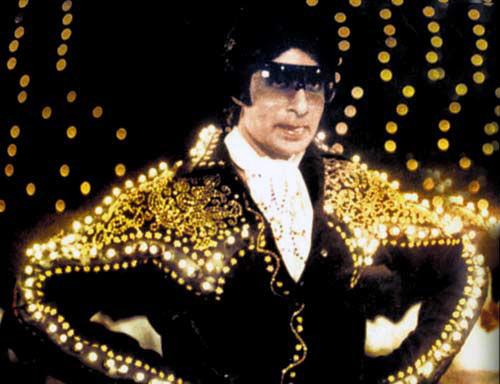 Big B lights up the screen quite literally in one of his most iconic and imaginative costumes — a black bodysuit strewn with LED lights to deliver an electric onstage gig for the Yaarana chartbuster, Saara Zamana.
10. The Cop uniform in Zanjeer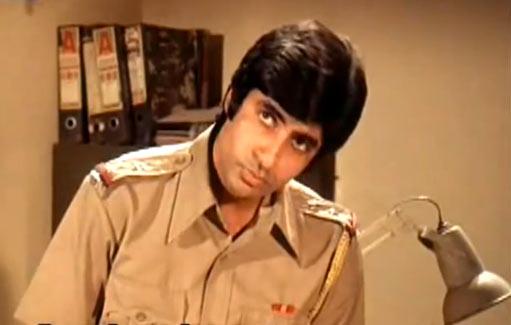 Ajit may enjoy all the key props in Zanjeer — the charm bracelet, the über cool tinted frames… — but it's Amitabh Bachchan who made a breakthrough with his simmering intensity in khaki vardi, starting an unending trend of valiant cop roles.
11. The black neckband in Trishul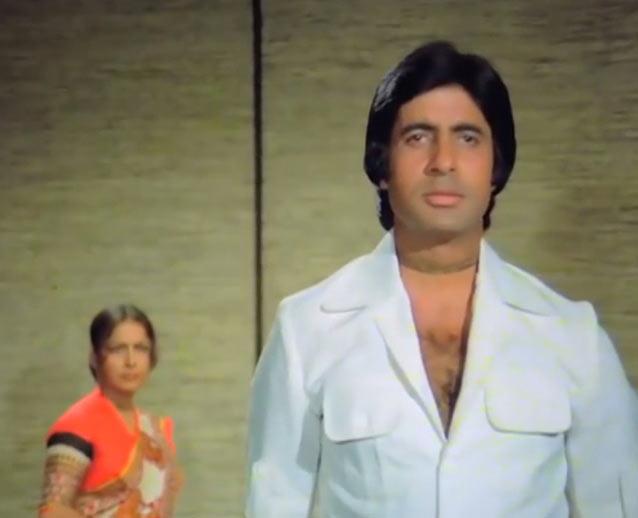 Bachchan wears his screen mom's aashirwad, a nasty looking knitted band, around his neck in Trishul as a constant reminder to punish his 'najayaz' baap for his mother's life of humiliation.
12. The coloured contacts in Satte Pe Satta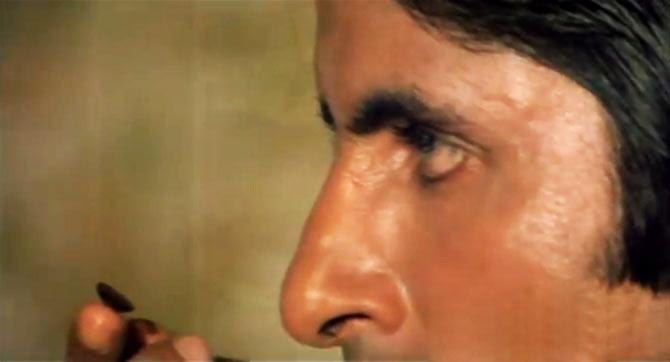 Negative AB with light eyes wears dark contact lenses to pass off as Positive AB without light eyes to provide Satte Pe Satta its crucial pre-interval twist.
13. The Nathulal-styled Mooch in Sharaabi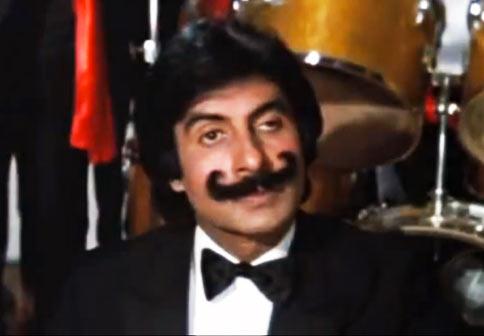 So obsessed is our inebriated titular hero with his underling Nathulal's distinctly curled-up moustache that Sharaabi, in one hallucinatory moment, envisions everybody, including Bachchan, in a mooch just like his because, "Moochein ho toh Nathulal jaisi, warna na ho."
14. The Talisman in Mard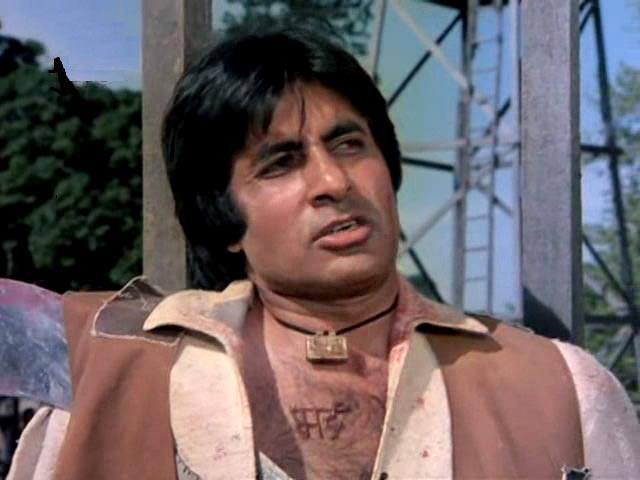 Apart from flaunting 'Mard' on his chest, part of Bachchan's look includes an amulet that he flashes in every single scene of this over-the-top Manmohan Desai offering.
15. The Crossbow in Toofan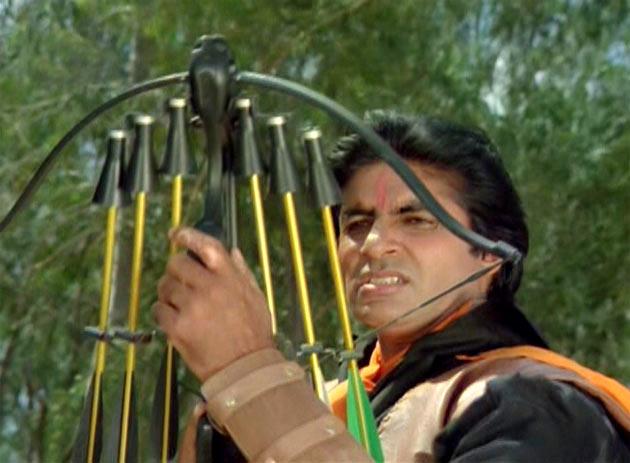 Toofan's disastrous critical and commercial fate could not dissuade kids from fancying Big B's superhero antics employing his peculiar weapon of choice — the desi crossbow.
16. The Toss Coin in Sholay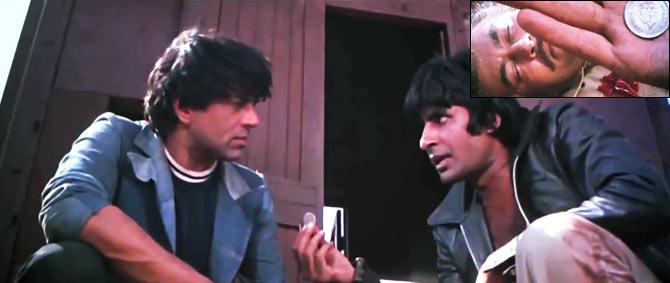 Between the harmonica that conveys Jai's softer side and the George VI King Emperor coin he flips to help him and Veeru make on-the-spot decisions, I decided to go with this rather special currency that reads the same on both sides, as is tragically revealed towards the end of Ramesh Sippy's celebrated Sholay.
17. The Shahenshah Costume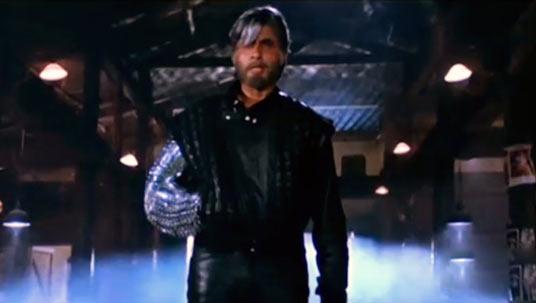 When the man says, 'Rishte main toh hum tumhare baap lagte hain' wearing a leather jacket that has metal armour on one arm, one shuts up and agrees in awe.
18. The Mug in Hum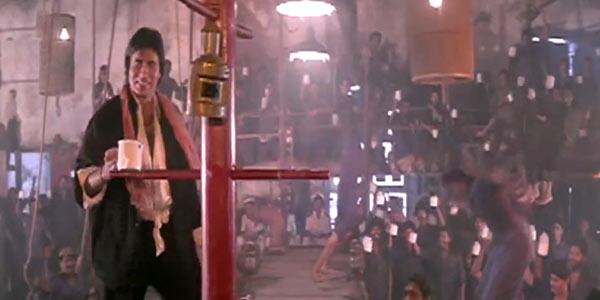 The sight of Big B actively swaying his beer mug, in the company of many others, to the beats of Jumma Chumma in a bid to garner Kimi Katkar's affections is one of the most enduring visuals of Mukul Anand's Hum.
19. The Knife in Eklavya: The Royal Guard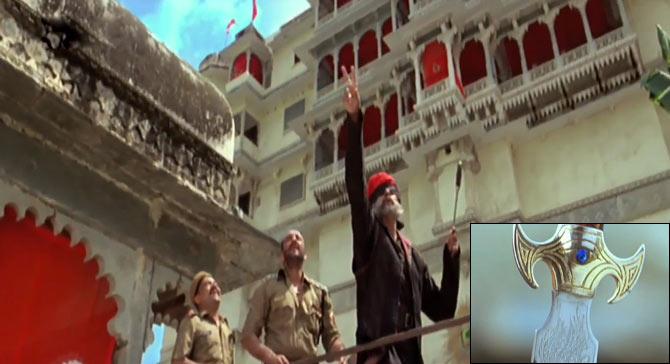 As the sworn protector of a royal family, Amitabh Bachchan carries an ancestral knife as part of his professional legacy.
In one wow-inducing scene, he uses the embellished blade to demonstrate his extraordinary aiming skills even when blindfolded.
20. Auro's red spectacles in Paa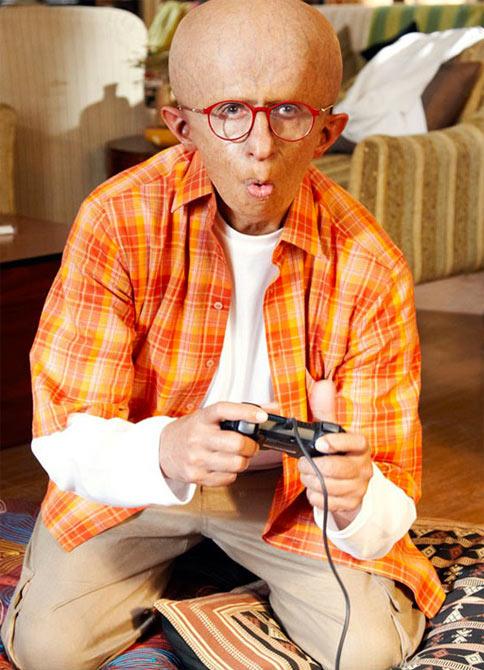 Amitabh Bachchan plays a school going kid diagnosed with a rare genetic disorder with generous assistance from the prosthetics department.
But the red-specs sporting Auro would be half as effective without AB's endearing candour.
Source: Read Full Article