The simplicity of a spontaneous sisterhood, women getting along with other women, feeling alive in each other's company, makes Dhak Dhak a gentle celebration of womanhood, notes Sukanya Verma.
Four women belonging to different age groups, religion and sensibilities bike from Delhi to Khardung La in Ladakh for individual reasons.
For Sky (Fatima Sana Sheikh), a gadget-savvy social media influencer, it's an opportunity for an overseas gig.
Senior citizen Mahi (Ratna Pathak Shah) wants to prove a point to her self-serving family.
Uzma (Dia Mirza) needs money to buy a laptop for her studious daughter since her chauvinistic husband won't.
Manjari (Sanjana Sanghi) is a classic Simran off to 'jee le apni zindagi' before she settles down with a boy she has never met.
Director Tarun Dudeja's debut drama, produced by Taapsee Pannu's cheekily named Outsider Productions, has a familiar air.
Only recently Uunchai, Sooraj R Barjatya's sentimental journey of four friends to Mount Everest base camp highlighted the tenacious spirit of the geriatric.
Dhak Dhak, on the other hand, focuses on the female bonding between the four strangers — a genre that's as sporadic as it is stereotypically treated in our movies.
Here too, the challenges thrust upon the women are as foreseeable as their itinerary.
'You remind me of my youth,' sighs one.
'I have a daughter just old as you,' notes another.
Somebody gets sick. Somebody gets upset. Somebody walks away. Somebody grows up.
All four get drunk and giggle over the usual sex stuff.
Men are callous and yet, always on their mind as Dhak Dhak joins the list of Bechdel test failures.
Patriarchy and misogyny are omnipresent but are they the only grievances a woman can harbour?
Ones with happy families and healthy bodies can feel restless too.
Yet, it's rare for a woman's existentialism to be explored as ardently as a man's.
Given the spunk and softness the lovely leading ladies are capable of, the bumpy writing is a bit of a downer. It's also rather odd how exciting challenges are thrown the group's way and how little of it is documented.
Having said that, there's no denying Dhak Dhak's happy-go-lucky charms.
Providing the excursion its wholesome warmth is the quartet's combined grace and camaraderie.
Always so seamless in any character's skin, Ratna Pathak Shah's glorious display of compassion and understated mischief makes her a reliable presence in the movie as well among the girls.
Fatima's steady confidence and curiosity hold her in good stead.
Sanjana Sanghi's gullibility may seem far-fetched but never feigned.
Dia Mirza wears restraint like an asset and doesn't let the most cliched part weigh down the movie.
Growing picturesque with every passing scene, Dhak Dhak's imagery evokes awe when the four women zoom past tough terrain and harsh weather.
Like most road trips in the movies, Dhak Dhak concerns itself with self-discovery.
And yet, their end goals do not define their personality.
It's not philosophical pursuits or answers to life's hurtful questions but the simplicity of a spontaneous sisterhood, women getting along with other women, feeling alive in each other's company that makes Dhak Dhak a gentle celebration of womanhood.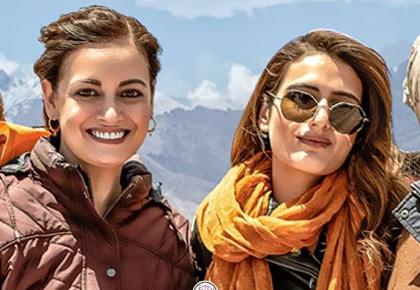 Source: Read Full Article