'Whatever I have directed has been so far from my world.'
Netflix's Web series Kohrra is making waves, thanks to its terrific cast and an engaging story.
Directed by Randeep Jha, the story takes us to a small town in Punjab and gives us a closer look into a murder investigation.
Jha introduces himself and discusses the series as he tells Subhash K Jha, "Empathy for human beings is important to me."
Kohrra spotlights your exemplary skill at telling a story that culls coherence out of existential chaos. How and where did this come from?
Existentialism is something that has always intrigued me though I was not aware of this terminology for a long time.
Until 2004, I had these various emotions and experiences, mostly a lot of challenges, insecurities and failures which I wanted to escape from.
I was completely lost.
In 2004, I quit everything and joined Barry John's Theatre in Education Company. I worked there for three years and used to teach drama.
Those three years working with Barry was therapy for me. I started feeling very light.
I got comfortable with my emotions, of my vulnerability.
Theatre also laid foundations of my craft, of my work which I still carry.
Those three years at Barry's theatre gave me a new perspective to life. It equipped me in terms of craft and practicality.
There, I started exploring human emotions without being judgemental. This one aspect is the biggest learning from Barry John.
Were you always interested in film-making? What was your family's reaction to your chosen vocation?
I find it difficult to express myself in real life. I realised that during my theatre days and was looking for some medium to express my thoughts, my views.
Initially, I was not aware about the craft of film-making.
But Barry John used to show us movies every weekend and we used to have a group discussion on that.
Later, I made a few friends in Delhi.
Amongst them, Pushpendra Singh (director, Lajwanti and Pearl of the Desert) used to show a lot of world cinema and I was gradually drawn towards filmmaking.
As I started to realise the power of film-making, I became more comfortable discussing life through those movies.
During that time, I was directing plays at the school where I was teaching drama to children.
So the starting point was that.
The family was not much aware about this. They just wanted me to secure a good job.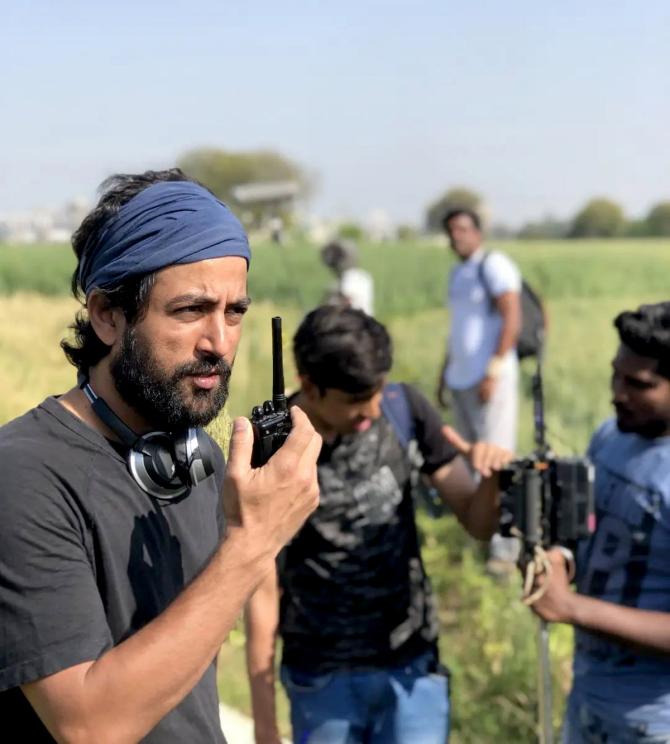 The entertainment industry can be awfully mean to outsiders. How hard was it for you to get here?
It took a lot of time.
I came to Bombay in February 2008, but surviving here was very tough.
Bombay is a very expensive city, especially when you do not have any financial support.
I started working in various TV production houses.
The TV industry is very exploitative. I used to get Rs 4,500 per month which was very difficult for anyone to survive here.
I kept working whatever job I could get.
TV was a great learning experience initially, as it is a fast-paced, delivery-oriented industry.
We used to work for 18 hours or in rare cases, 36 hours non-stop, as we had to deliver an episode.
We used to shoot 15-20 minute footage in a day.
TV taught me the basic grammar of film-making and I polished my technical skills.
But I did not stay long as it got boring.
I started looking for a film director to assist, and started with assisting Dibakar Banerjee in Shanghai and then Anurag Kashyap in Ugly, Raman Raghav and Mukkabaaz.
The experience of working with these two directors, especially Anurag Kashyap, equipped me to navigate my way through the industry.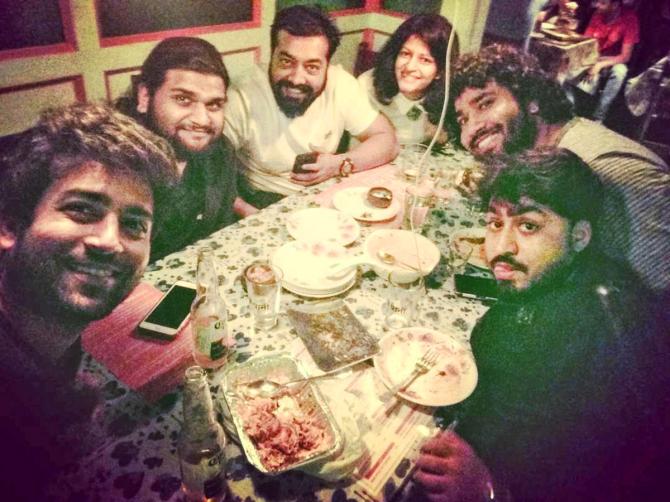 Tell us about the genesis of Kohrra. How did a film-maker from Bihar come to direct a Punjabi series?
Gunjit Chopra and Diggy Sisodia came up with the idea of Kohrra to (serial creator) Sudip Sharma.
When they were ready with the story, Sudip had contacted me while I was shooting for Trial by Fire.
I read the pilot episode and that's how it all began.
I am from Bihar, but I stayed there for two years only, when I was six or seven years old.
Those two years' memory is still fresh. I used to stay with my uncle and aunt.
After that, I shifted to Rajasthan with my parents.
My father was in a transferable job and after every two years, we had to move to a new place.
Because of this constant shifting, I never felt a strong connection to a particular place nor did I have core childhood friends.
I think I see the world from a very outsider's perspective and look for my own emotion in it.
Whatever I have directed has been so far from my world except my first short film, Kartaa.
And Kohraa?
Kohrra was interesting for me because I was trying to understand through the eyes of an outsider.
Like in the third episode of Kohrra, the whole father-mother fight was seen from a younger Nimrat's perspective and you feel bad for this family.
Empathy for human beings is important to me.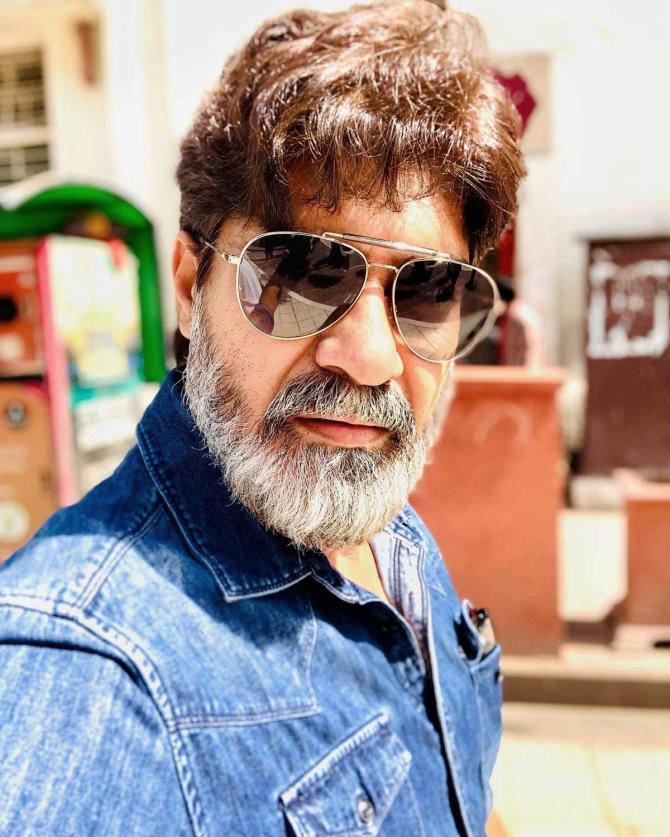 What really adds to the exceptionally apt mood of Kohrra are the actors. How did you pick the right actors?
One brief for casting was authentic Punjabi actors.
Suvinder Vickyji was already locked in during the writing process.
When Sudip mentioned about him in our first meeting and showed me his look, I instinctively knew nobody can be a better Balbir than Suvinderji. I had seen him in Chauthi Koot.
Usually, it is hard to find faces you have imagined while reading or writing, but Survinder Vicky's face was better than what I could have imagined.
The rest was a casting process done by Nikita Grover. She stayed in Punjab for quite a long time and looked for the actors.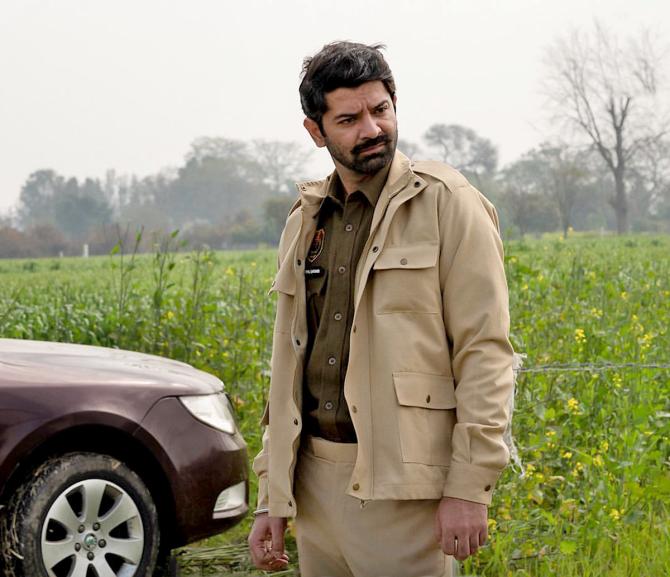 And Barun Sobti?
For Garundi, I wanted a different face and we did an intensive casting hunt.
Finally, Jagjeet Sandhu caught my attention. His audition was so good.
Later, Sudip and I met him and talked to him. He had played Chaku in Pataal Lok.
Unfortunately, Jagjeet was busy when we were shooting so we could not lock him in.
Later, Sudip mentioned Barun's name. I had worked with Barun and my experience working with him was not bad.
The only condition was he should know Punjabi, which he did.
Jagjeet Sandhu had a small town vulnerability, but at the same time, had that charm and swag.
Throughout the shoot, I was trying to go closer to that Garundi while I was shooting and I think we could achieve that. In fact, we gave Garundi the same look I had in mind for Jagjeet Sandhu.
Among other things, Kohrra also addresses the theme of homophobia. What made you go there?
It was in the writing but while shooting, the gaze towards human beings and understanding and observation towards society becomes important.
Kohrra is sexually quite explicit. Do you feel the OTT gives you the freedom to do what cinema can't?
Body is never used as bait, never titillating.
The story required me to deal with it.
I like the realism in the act and I think in today's times when everything is being shared and discussed, it is good to show things aesthetically.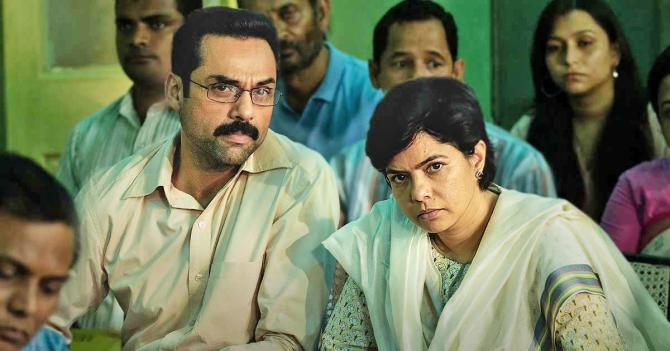 Before Kohrra, you were associated with another excellent series Trial by Fire. Are dark themes your preferred choice?
For me, Trial by Fire was an intense story, but not a dark one.
Kohrra has dark shades.
So far, I have got beautiful scripts to explore the stories my way. As a film-maker, I want to explore different genres and push my boundaries.
Tell us about your forthcoming plans.
I want to do a satirical comedy family drama which I have been working on for a very long time.
I want to explore love stories, high action drama and horror genres.
I want to explore and execute different styles of film-making.
Every well-written story has more layers and opportunity to explore more than what it is written.
Writers spend years and years to reach that final draft.
There are so many emotions and backstories behind each and every written word.
It is magical to start getting into all that.
Sometimes when you talk to a writer, you will know the depth and emotion in that one scene, which may seem flat and normal while reading.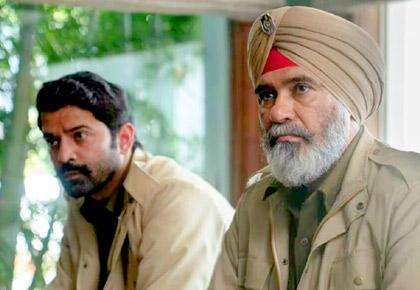 Source: Read Full Article