Few actors share Kareena's fearlessness for closeups in their 40s.
A still force in a high-strung thriller, her marvellously opaque portrayal of a woman hiding skeletons in her closet turns a crafty police procedural into a wistful story of survival, observes Sukanya Verma.
Kareena Kapoor Khan is like an unputdownable book, a page turner in Jaane Jaan.
The more you read her, the more mysterious she grows.
I found myself mesmerised by her Maya D'Souza in Sujoy Ghosh's adaptation of Keigo Higashino's The Devotion of Suspect X where she plays a single working mom determined to protect her teenage daughter (Naisha Khanna) from harm's way.
Maya's stoic exterior may hold back a history of domestic damage and despair, but the sadness in her eyes instantly gives her away. As does her tearfully and tightly holding her kid against her chest. Few actors share Kareena's fearlessness for closeups in their 40s.
A still force in a high-strung thriller, her marvellously opaque portrayal of a woman hiding skeletons in her closet turns a crafty police procedural into a wistful story of survival.
Higashino's bestseller often comes up during any mention of Jeethu Joseph's Drishyam, of which it is often cited as an inspiration in context of its airtight alibi. Numerous remakes and sequels, including a rather successful one in Hindi, have robbed the premise of novelty.
Ghosh, wanting to adapt the book to screen for a decade now, realises the need for refreshed perspective and wisely shifts the focus from intellectual duelling to human pathos. Neither 'why' nor 'how' matters in his scheme of things as he goes about creating a mood and mystery around his three primary characters.
More than the suspense or smarts, it's studying Maya that fuels his drama as it hopes to gain access to her innermost thoughts should her guard ever drop.
Set in the foggy hill station town of Kalimpong, the overcast weather could be a metaphor for all that she conceals underneath that steely reserve.
Within the movie itself, Maya is subject to intense scrutiny.
Between a socially-awkward neighbour keeping a watchful eye and a cockily charming cop suspecting foul play, there's hardly any breathing space.
Ghosh captures the claustrophobia well, especially after an unwelcome guest (Saurabh Sachdeva) from her woeful past surfaces on the scene.
The events that follow bring Naren (Jaideep Ahlawat), a school teacher-next-door and his mathematics genius to the fore. But Jaane Jaan doesn't want us to form opinions about anyone too easily.
And the 'Teacher', as Maya addresses him, teases our perceptions over the course of his modest manners and magnanimous deeds.
Applying the logic in Maths to his life's philosophies, Naren's love for the subject regularly shows up in his intelligent analogies and high standards of excellence. But the burden of knowledge comes with its own battle against inner demons.
A grey, gloomy air envelopes quaint Kalimpong's cosy streets and colonial architecture (captured evocatively in Avik Mukhopadhyay's atmospheric photography), until a policeman from Mumbai arrives at the scene of crime and infuses it with charm and curiosity.
If Naren is a smart cookie, Karan Anand (Vijay Varma), his college classmate-turned-cop is nothing less than a sly dog.
They both carry a torch of mutual admiration in their hearts as well as a love for martial arts, which is gradually revealed during a sparring session in a nearby dojo and nostalgia over a Bruce Lee poster, stolen in their student days, still adorning Naren's wall.
There's a hint of envy too.
Naren's hair, like a rapidly balding Anton Chigurh of No Country for Old Men, notes how nicely Karan has 'maintained' himself while the latter appears distracted by his Mathematical reasoning and Maya-next-door.
Ghosh doesn't always stick to the book and changes its mathematician versus physicist narrative to fixate on Karan's conceit, confidence and cunning as a cop trying to get inside people's heads.
As the game of hide-and-seek progresses, there's attraction all around but admission from none.
Between a wanted man, a charred corpse, an investigation underway, a seemingly open-and-shut case connecting a mother, a man of Maths and a man on a mission, Jaane Jaan becomes a sum of their collective moments.
Instead of masterminds though, Ghosh gives us repressed recluses and lonely souls.
When Kareena performs the Laxmikant-Pyarelal song (from the 1969 film Intequam) inspiring the film's title in a stunning karaoke scene, it's a poignant glimpse into her bottled-up passion and pain.
What makes it masterful is how Ghosh doesn't confirm its genuineness.
He prefers his audience to draw their own conclusions about the characters, their motives and morals. Find your own solution or accept what is fed to you, Naren explains at one point almost like a clue dropped by Ghosh.
Purely as a thriller, Jaane Jaan is wanting and unsurprising.
There's a general abruptness and incoherence in how evidence is tucked away and matters are resolved.
A teenager groaning about life and death matters in the same tone as wanting a new dress for prom is an instance of clumsiness in an otherwise superbly casted drama.
Truth be told, Jaane Jaan's artistic prowess shines best in the fascinating encounters between its leading troika.
At first, Jaideep Ahlawat's drastic physical transformation deflects us from his person. But his tremendous skills show in how easily he settles in the role alternating between creepy and dignified. More than the script, it's the faint smile that follows after he's spoken some of the smartest lines in Jaane Jaan that tell us about his fondness and frustration for Maths.
Vijay Varma's raffish charisma and offhand humour loosens up the stiff setting and gives it a sense of lightness whether he's sampling Kalimpong's famed dragon momos and super spicy chutneys or flirting with suspects.
If his sharp tongue survives the spice, his smooth talker wins over a henchman with his Mithunda trivia, Varma brings his own attitude to Jaane Jaan's cryptic energy.
Thrillers become a game not just a genre in Ghosh's vision.
It's like a coin trick Naren plays with his student where retrieving a penny is of greater significance than defeating the opponent.
In Jaane Jaan, the director sets the rules where subtext is spoiler and everybody must reveal themselves without disclosing anything.
All his three actors rise to that challenge spectacularly and share numerous stories to be read in between the lines.
How's that for devotion?
Jaane Jaan streams on Netflix.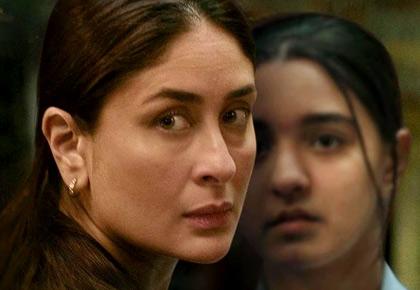 Source: Read Full Article