Thematically riveting, but inept execution lets Kafas down, complains Mayur Sanap.
Rarely do we view content that deals with child molestation and its implications.
Kafas, a social drama created by Subhash Kapoor, treads this difficult terrain, but only with mild success.
The story revolves around the Vashisht family as their teenage son Sunny (Mikhail Gandhi) lands a major role in a big-budget Bollywood film. His middle class family is overjoyed with their son's rise to fame. But it is short-lived when they realised that Sunny was sexually abused by the film's lead actor Vikram Bajaj (Vivan Bhatena) during the film's outdoor schedule.
After encountering obstacles to suing the rich, influential, star, the parents — Raghav (Sharman Joshi) and Seema (Mona Singh) — accepts hush money and signs a non-disclosure agreement at the cost of their son's dignity.
Kudos to the makers for highlighting a forbidden theme in Bollywood: Pedophilia.
Despite this premise, Director Sahil Sangha and Writer Karan Sharma fail to weave a compelling story around such a grim topic.
The metaphoric title of the show, which apparently means Cage in Arabic, shows the internal struggles of the characters as they navigate through various dubious situations.
The writing doesn't give us a clear picture of the parents' moral compass except the fact they are struggling with modest living and want to give their children a better future.
The story also meanders through sub-plots of Sunny's sister who feels disregarded in the family, her problematic boyfriend, Raghav's ex-wife, their aggressive teenage son.
It's all a little too much and distracting for a show that already has a sensitive subject matter at its core.
Director Sangha sanitises the story to such effect that the talking point ends up becoming a mere plot device to steer the drama. Sharma's feeble writing fails to explore the delicate facets of such complex material.
The show never really drills down to the seriousness of its subject and instead, focuses on the agonisingly slow drip of interpersonal dynamics between husband and wife which adds nothing to the central plot.
Sharman Joshi puts in earnest effort, but his hammy dialogue delivery lends a wooden quality to his performance.
Mona Singh lets her anger and sadness come to the surface even when she's silent and renders a beautifully restrained performance.
Young actor Mikhail Gandhi has a captivating presence on the screen and he conveys the essence of his character just by looking at all the emotions going through inside him.
Vivan Bhatena is suitably menacing and that's pretty much all about his character.
Kafas would have been a highly satisfying watch, but ends up a missed opportunity.
Thematically riveting, but inept execution lets Kafas down.
Kafas streams on SonyLIV.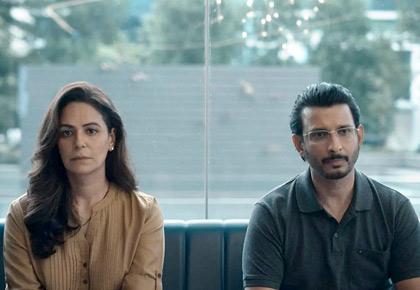 Source: Read Full Article