Move aside Adipurush. There's a grand new epic being played out.
Colors TV's new show Shiv Shakti: Tap Tyag Tandav tells the story of love between Lord Shiva and Parvati/Shakti.
Celebrated set designer Omung Kumar has created the five sets in Umbergaon, Gujarat, to highlight the heavenly universe.
"We have seen the world of Shiv in TV shows and paintings and calendar art. So you have a preset mind about what the set should look like. To break that is challenging," Omung tells Rediff.com Contributor Rajul Hegde.
"So we thought let's look at the genre of Kailash in different ways larger than life, as if I were making a film. So what do I bring to the table which is different yet believable? Calendar art into different kinds is what we tried to do."
"While designing, I wondered if I could I make the most classic tapasya of Shivji inside the mountain instead of outside? What would that look like? Can I carve this huge mountain from inside with tall pillars of snow which has a translucent look, and can be lit up at night?"
The five sets that he has designed include Lok, Asur Lok, Daksh Darbar, Forest and Kailash, and each looks different from the other.
The sets were created in just four months with more than 2,000 hands working on it.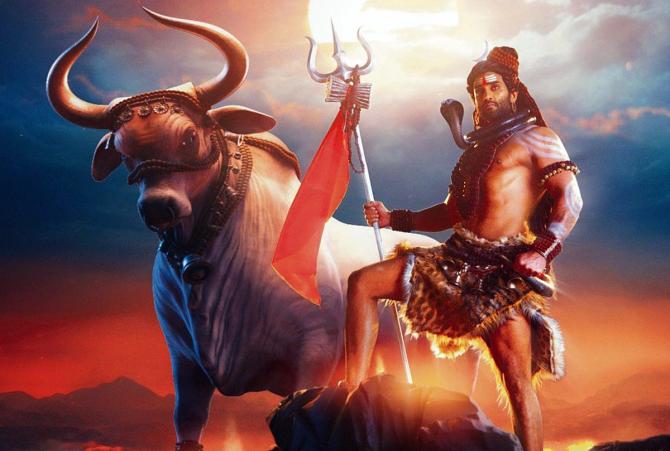 How did he make sure the sets were different from the hit show, Devon Ki Dev-Mahadev, which has been appreciated for its production values?
"When the Mahadeva show set was created, that zone became believable for people who had seen it and they appreciated it. Obviously, when I come on, this will look different yet the zones are the same. What I get on to the paper will not have any resemblance to what you have seen before," Omung says.
Omung is known to design many sets, including the Bigg Boss houses. Which kind of sets are the toughest to design?
"Mythological sets are toughest because this is something people know of and yet, we have to break the mould and give them something new. Something like Bigg Boss is also not easy because you are doing it every year on different platforms and in different languages. We have to reinvent ourselves every single time."
"In Bigg Boss, we have full freedom. Nobody has a preset mind. But yes, they expect something colourful and lively to set a tone, so we have to outdo ourselves."
Omung describes how he designed the five sets in Shiv Shakti: Tap Tyag Tandav.
Kailash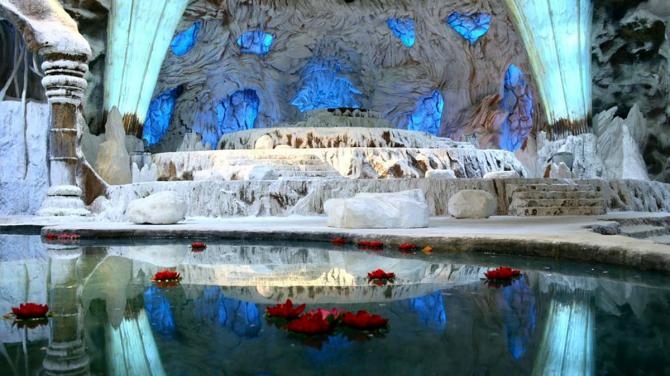 It is believed that Lord Shiva resides in the breathtaking Himalayas.
The tall mountains have been replicated to make the set look authentic as the abode of Lord Shiva.
These peaks are in their prehistoric glory and Lord Shiva's mystical cave is complete with stone corridors and pillars placed at the mouth of a clearing in the middle of the snow.
With clouds orbiting Mount Kailash, this set has soft blue lights, considering that Lord Shiva is synonymous with the colour.
Mystical Forest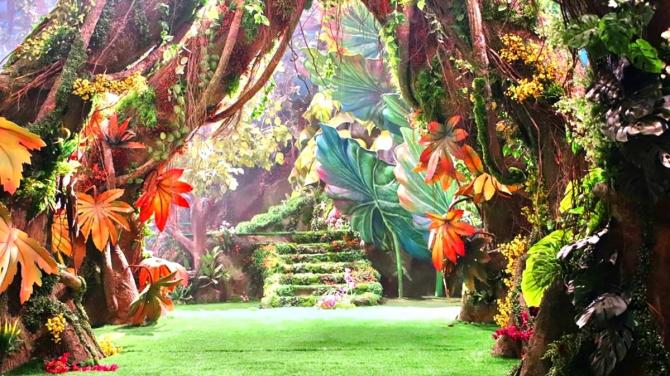 The enchanted forest has exotic flowers, leaves, fruits and waterfalls bathed in the magical glow of sunlight.
Evoking a surreal romance, the forest has been crafted with attention to details. It will serve as the backdrop for Lord Shiva and Shakti's love saga.
Swarg Lok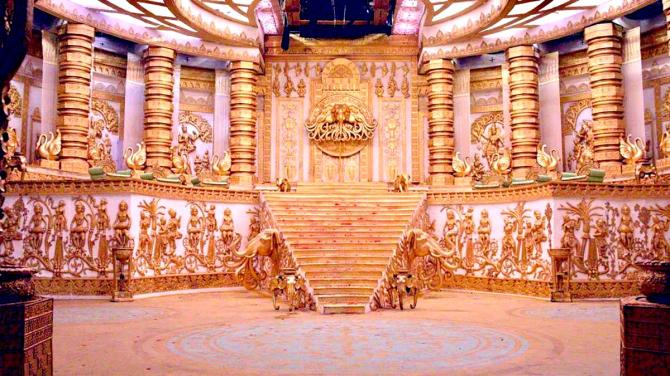 Swarg is adorned with white clouds, a gigantic dome, pillars with intricate designs and white and gold furnishings.
The Swarg Lok set has a palatial darbar, where Indra will be seen resting on his ornate throne.
Nestled in the sky, this magnificent world is eyed by the Asurs, who reside in pataal lok.
Asur Lok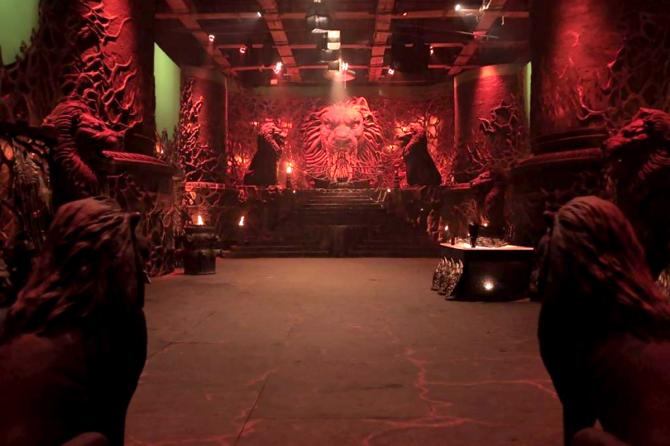 In contrast to Indra Lok, Asur Lok is fashioned as a dark subterranean region under the earth's crust made up of lava stones, darkness and eerie caves.
This realm is created by the master architect of the Asurs, Mayasur who is considered as skillful as Vishwakarma, the architect of the Gods.
Indicating the presence of demons, the caves have foreboding cracks, golden lava spilling from them and metal roots ensnaring its pillars.
Sculptures of sinister-looking wild creatures across its architecture underline the existence of dark forces.
Daksh Darbar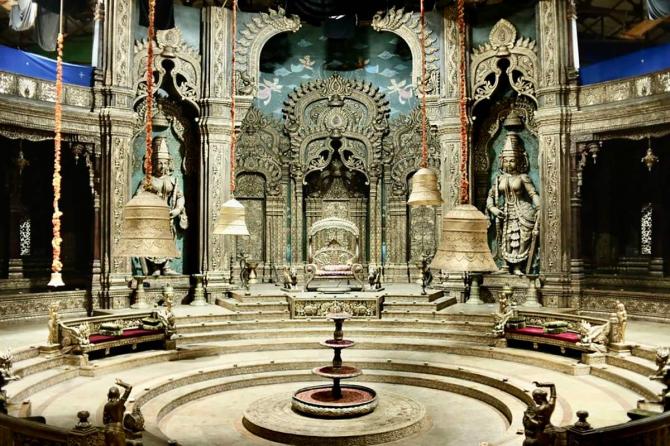 The Darbar sparkles with pristine cotton drapery, sparkling wood, polished stone and ornate bedrooms and corridors.
The Daksh Darbar has an interesting feature — the depiction of women empowerment through its elegant statues.
After all, it was the place where Shakti, the embodiment of women's power, was born as Sati.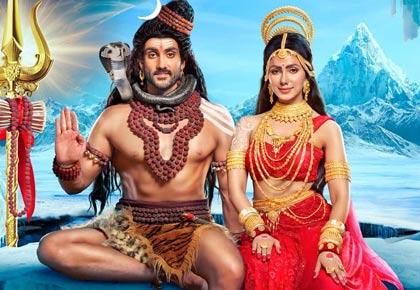 Source: Read Full Article