In spite of a selection of fine actors doing their best, and an eye-catching visual quality, Rana Naidu is more disturbing than entertaining, feels Deepa Gahlot.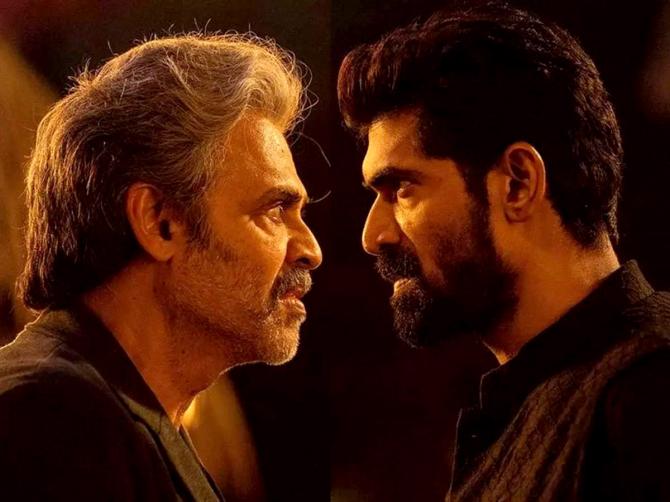 'I am a feminist,' says a slimy, old lowlife at one point in Rana Naidu, which is probably the only laugh-out-loud moment in this grim remake of Ray Donovan, coming as it does from a man who only talks of women in terms of bedding them.
Women, in this smoggy cloud of toxic machismo made up of criminals and perverts, are disposable, to be casually killed off if they talk too much.
Karan Anshuman is the creator of this remake, and has directed the Netflix show with Suparn S Verma, as a laddish, gleeful mix of violence and sex, that can be off-putting.
Profane language is now par for the course for series about gangsters and a liberal sprinkling of cuss words do not even register anymore. But even so, the overuse of the 'G' word is simply annoying.
The original made almost a virtue out of dysfunction — practically nobody in it was normal (sure, you can hear someone sneering, what is normal?!), and in Rana Naidu, everything seems sordid and lurid.
The eponymous character played by Rana Daggubati (with a mostly stoic look), is a fixer for the sleazeballs of Mumbai — the film star, cricketer and builder types, with more money than decency — who get into trouble and call Rana Naidu to make it go away.
But all this is just wallpaper in the actual mess of Rana's life.
In Mumbai, he has a seemingly happy family, with his wife Naina (Surveen Chawla) and two teenage kids. But his murky Hyderabadi past involves a murdered girl and the suicide of his sister.
His brothers Tej (Sushant Singh) and Jaffa (Abhishek Banerjee) carry scars of childhood abuse, and are carrying on with their unsatisfactory lives, when their father Naga Naidu (Venkatesh Daggubati, Telugu superstar and uncle of Rana D) springs himself out of jail with some smart snitching, and lands up in Mumbai.
Rana's already messy existence that involves a debauched film star called Prince (Gaurav Chopra) and other creeps, spirals out of control.
Much to Rana's annoyance, the father he hates insinuates himself into his family.
Naga plays a complicated chess game with all the characters, speaking a piquant Hyderabadi lingo.
Despite being the most despicable character in a show full of evil men, Venkatesh's performance is what keeps the viewer from clicking the fast-forward button.
The deft mix of tragedy and dark humour that marked the original is reduced to sensationalism and depravity. No matter how much one is opposed to censorship, in principle, the exploitative way in which the women are treated is discomfiting.
It's all very well to pick foreign content to remake but one wonders what is the target audience for Rana Naidu.
In spite of a selection of fine actors doing their best, and an eye-catching visual quality, the series is more disturbing than entertaining.
Rana Naidu streams on Netflix.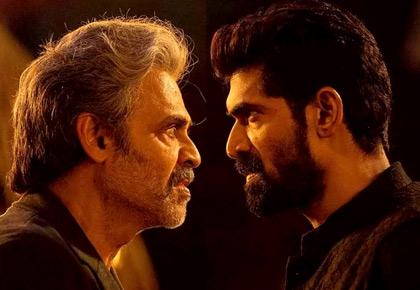 Source: Read Full Article