As emotions escalate and drama intensifies, The Night Manager 2 becomes more gripping, applauds Mayur Sanap.
There is something seductive about the world of The Night Manager, the Hindi adaptation of John Le Carre's novel, which tells the tale of lies and deception as some impossibly good-looking people do questionable things.
Front-lined by Anil Kapoor, Aditya Roy Kapur and Sobhita Dhulipala, the show returns with a power-packed second chapter that steers the story in an interesting direction with more twists and turns.
We are in Episode Five and the plot follows undercover agent Shaan Sengupta (Kapur), who has successfully become a trusted ally to Shailendra 'Shelly' Rungta (Kapoor), who secretly runs an arms trade under the guise of a businessman.
Shaan gets into Shelly's inner circle and sets out to learn exclusive details about the latter's shady business in order to expose him.
As his covert mission is underway, Shaan gets emotionally entangled with Shelly's girlfriend Kaveri (Dhulipala), which could potentially yield fatal results for both.
Caught in a dilemma, Shaan is pushed to make difficult choices that make things more complicated for him and very exciting for the viewers.
As one might have guessed from the lukewarm but perfectly serviceable first part, the second part is where the real fun lies. As emotions escalate and drama intensifies, the show becomes more gripping with enough thrills for our amusement.
In sync with Shridhar Raghavan's (Pathaan, War) nimble screenplay, the directing duo of Sandeep Modi and Priyanka Ghose maintains the tense atmosphere throughout and keeps us captivated as the drama unfolds at a swift pace.
Aditya Roy Kapur is solid as sharp and charming Shaan, who is walking a precarious tightrope.
Anil Kapoor seems to be having fun playing a baddie and he renders a deliciously wicked performance as Shelly. Watch him in an explosive moment where his character takes a sinister turn inside a van. The veteran is in absolute fine form.
Sobhita, whose character was reduced to mere eye candy in the first part, is given more to do this time around as the show delves into her backstory. Her steamy chemistry with Aditya remains a highlight of the show.
Tillotama Shome is crackling as a pregnant boss lady, who has masterminded the whole operation. But neither she nor Saswata Chatterjee (whose gay man trope is still problematic) have any scene-stealing moments, unlike the previous part. I hope upcoming episodes will prove otherwise.
As things unfold on Episode 5, The Night Manager 2 is off to a riveting start.
With such tremendous source material and a charismatic star-cast at its disposal, anything less than spectacular would have been blasphemous.
The Night Manager 2 streams on Disney+Hotstar.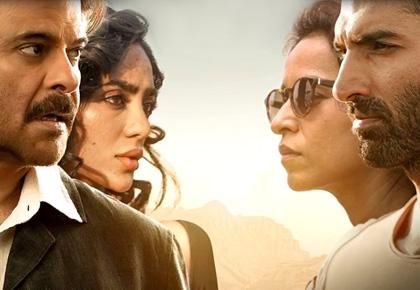 Source: Read Full Article