Vadh is watchable because of its terrific cast, notes Mayur Sanap.
There is something oddly satisfying about seeing an actor deconstructing the image that made him so popular in the first place.
After flexing his comedic muscles in numerous goofy roles, Sanjay Mishra showcases serious dramatic chops in Vadh.
Written by the director duo of Rajeev Barnwal and Jaspal Singh Sandhu, Vadh is a tale of a murder that alters lives.
As the film opens, we get to know the elderly couple — a retired schoolmaster Shambhunath Mishra and his wife Manju (Sanjay Mishra and Neena Gupta) — living a lonely life in Gwalior.
Their estranged son has settled abroad.
As the couple struggles to make ends meet, there is constant harassment from a moneylender Prajapati Pandey (Saurabh Sachdeva), who eyes their property.
When his demands become filthy, Shambhunath commits a gruesome crime that ensnares him in a cat and mouse game with the local police inspector (Manav Vij).
The story of Vadh is complex, and Barnwal and Sandhu keep it emotionally engaging in most parts. The plot is reminiscent of the pulpy action we saw in Drishyam (2015) and Haseen Dilruba (2021), but the world Vadh establishes itself in is seeped in reality.
Sapan Narula's skillful camera captures this gloomy setting to great effect. However, the novelty wears off when the film lets itself down through predictable narrative choices.
After setting up things pretty well in the first half, the film meanders through improbable twists in the latter half. There is a sense of clockwork effort in which scenes are communicated that feels out of sync with characters' emotional expressions.
The melodramatic treatment that the film goes after feels manipulative. This is especially evident in scenes that feature the son's character, which is so one-note and jarring that it ends up becoming a mere plot device to feel sorry for the elderly couple.
The investigation stretch, which is typically the most interesting bit in crime dramas, feels underwritten, and also gets resolved way too easily.
The space that the film benefits most from is its robust acting talent.
Both Sanjay Mishra and Neena Gupta shine in their respective roles. Mishra is no George Kutty/Vijay Salgaonkar, but a common man caught in a downward spiral due to circumstances.
His nuanced performance in a not-seen-before murky avatar is reason enough to watch this film.
For someone who appears emotionless but yet packs a sea of emotions within him, Mishra is terrific.
As is Neena Gupta. She portrays a meek wife, simmering with mistrust for her husband after knowing his truth, but remains his pillar. You can tell she tries to delve deeper, but her performance feels restricted due to the underdeveloped role.
Manav Vij is first rate as a morally dubious cop, an extension of his character from Andhadhun.
The one performance that stands neck and neck with Mishra's comes from Saurabh Sachdeva. His villainous turn is a revelation and one hopes more film-makers take notice of his talent.
Vadh is watchable despite its lack of coherence, mainly because of its terrific cast. But those who prefer smart how-to-get-away-from-murder mystery dramas, this is a pretty standard crime film with little new to say.
The culmination of Shambhunath's journey is left on a rather ambiguous note, leaving the implication that we are not done with his story yet.
Vadh streams on Netflix.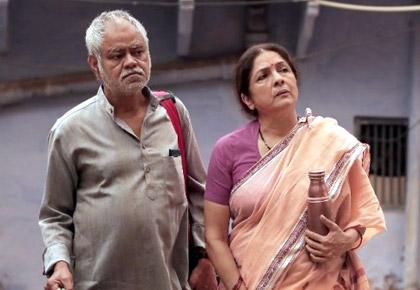 Source: Read Full Article