'There's this presence, a sense of patrolling and surveillance. And it's not coming from a place of safety.'
'It's coming from a place of 'You don't belong here'.'
'It's a malevolent force, the society at large is observing them.'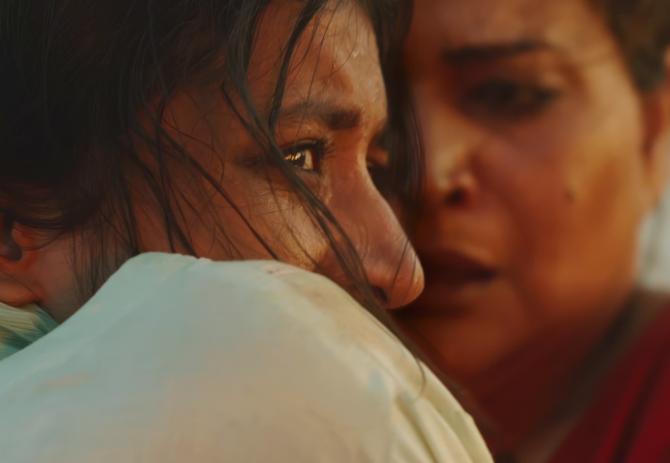 Pakistani cinema has had a slow start since the industry was almost obliterated under the dictatorship of Zia-ul Haq. But slowly, the industry is re-emerging with commercial as well as independent films.
In the last two years, two Pakistani films have played at the Cannes Film Festival reflecting the works of bright new talents.
This year, Zarrar Kahn, 32, brought his first feature In Flames to the Directors' Fortnight section that plays a diverse programming parallel to the main festival.
It has been 43 years since a Pakistani film (Jamil Dehlavi's The Blood of Hussain) has played in the section.
In Flames is the story of two woman — a mother Fariha (Bakhtawar Mazhar) and her daughter Mariam (Ramesha Nawal) — who face daily humiliation in an overwhelming patriarchal society.
The death of the senior male member of the family makes things even worse for them.
Kahn adds a twist to the film, where the desperate struggles of the women are presented as a ghost story.
Kahn is an alumnus of the TIFF Talent Lab, Locarno Filmmakers Academy, Open Doors Locarno, Asian Film Academy and Director's Lab programme at the Canadian Film Centre. His short films have been screened and awarded in several festivals, including TIFF, Locarno and BFI London.
Now mostly based in Karachi, Kahn also spends time in his second home in Mississauga, Canada.
"Karachi is a city of so many contradictions. We have legislation that are very robust in terms of women's rights and property rights, but then we have a society that actively tries to suppress those rights. I wanted those complexities and contradictions to be highlighted," Kahn tells Rediff.com long time Contributor Aseem Chhabra after the Cannes Film Festival.
Zarrar, the film really moved me, the way it unfolds. How do you interpret this hellish world the mother and daughter are living in where they have ghosts watching them?
If you speak to women in Pakistan, and Karachi in particular, they always feel like they are being watched.
There's this presence, a sense of patrolling and surveillance. And it's not coming from a place of safety.
It's coming from a place of 'You don't belong here.'
It's a malevolent force, the society at large is observing them.
The women in my life have told me stories about these horrific acts and incidents they had lived through.
As an artist, I am inspired by genre film-makers primarily because that's what keeps cinema exciting.
I was also cognisant that I come from a part of the world where there are a lot of stories about the trauma that characters live through.
I didn't want to add to that canon of cinema. Rather, I wanted to create cinema where my characters defeat and conquer their demons.
At the beginning of the film, Mariam gets into the car. She's wearing a headscarf. I know Pakistan is not Saudi Arabia, and things have changed in Saudi Arabia as well. But my first reaction was, 'Wow, she's driving a car,' given how conservative she looks.
Tell me about this healthy and unhealthy balance because a brick hits the car, and later, a guy says, 'Hamari auraten to bahar nikalti nahin hain.'
Karachi is a city of so many contradictions. We have legislation that are very robust in terms of women's rights and property rights but then we have a society that actively tries to suppress those rights.
I wanted those complexities and contradictions to be highlighted.
The women I know in Karachi are doctors who are on the front lines of providing COVID relief, driving themselves to work while wearing hijabs, while also being in arranged marriages they don't feel comfortable about.
All these contradictions work in tandem.
For me, that's where a good story and good characters come from.
We meet Mariam who wants independence and to live life on her own terms. But she's aware of the society she's operating in.
That's the character who has the highest level of awareness of how she has to navigate that society, where she can and can't push.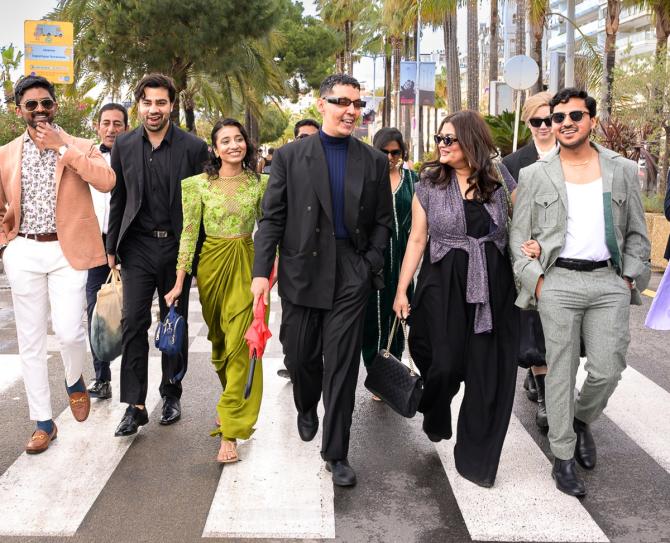 Is Karachi any different from Lahore or Islamabad, in terms of how women are treated?
Karachi is the most progressive of the three cities. It's the biggest city with 20 million people.
It is Pakistan's melting pot.
It's where everyone comes to try and make a buck and achieve their dreams.
But when you have that many people in a city, it's ripe to explode.
There's always that simmering fire of something that can go wrong on an enormous scale.
I wanted that tension to come out in their day-to-day life, how the women navigate the cities.
We don't see overt politics. But the politics is interweaved into how Mariam and Fariha are trying to get by.
There was a short that you made that evolved into this feature.
I made a short in 2018 called Dia about a young woman who's in a secret online relationship.
It dealt with grief and trauma.
It was supposed to be a drama, but during the edit, I realised the character was terrified and some of that fear led the film to becoming a thriller, without there being any intention of it being so in the script.
When I was developing, In Flames, I wanted to do that with greater intention, lean into the tropes of genre.
Dia wasn't a proof of concept for a feature film, but a story of a mother, daughter and a younger brother, living in a cramped apartment, trying to survive.
There were so many themes there — patriarchy, what it's like to be in Karachi, the strife and the tension.
The actress, who played the mother, ended up playing the mother Fariha in the film too.
In between 2018 and 2023, I kept making more and more shorts and learning the craft because I did not go to film school.
Something happened in the pandemic, when we were all propped on Zoom calls, feeling very generous about telling our stories, not knowing if we would ever get that chance again. Because we thought the world was ending.
So a lot of that confessional element and honesty I interwove in this movie.
But I took it a little bit further into the horror zone because I feel the lens of horror allows the story to be more visceral.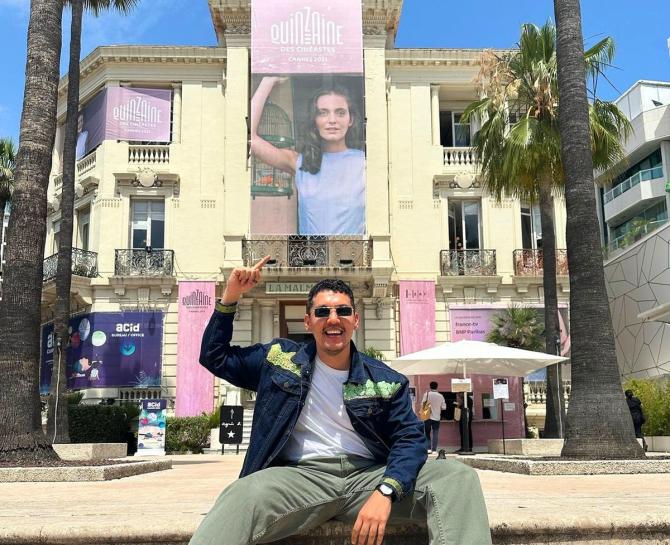 How did you find Ramesha Nawal, who plays Miriam?
This is her first time on camera.
I come from a theatre background as do a lot of the people in this film.
I had a theatre company in Karachi that I had set up when I was a teenager. We did outreach on social media and Ramesha signed up for an online audition.
After 45 minutes, I knew this is the one. The first time we met was during our first table read.
She walked into the room and she has a very quiet presence in real life. But then as soon as the camera was on her, she transformed.
She has such incredible instincts. I would have to give little direction and see what she would do with it.
What are the opportunities in for acting and film-making in Pakistan?
I know Pakistan produces commercial films, but in the so-called independent art house space? In the last two years, two films have come to Cannes.
What is changing in Pakistan as far as cinema is concerned?
In the past, many of the actors were coming from a television background and they had theatrical acting skills. The current actors are doing more natural acting.
I try not to work with actors who have a history of working in the television industry because there's a level of presentational performance. And that's not something that I gravitate towards.
Instead, I have tried to work with people who come from theatre because their process is similar to mine, where I like to rehearse and discuss the motivations and different kinds of approaches to how we build the characters.
I think what's changing is access and means of production.
For a long time, cinema has been a privilege space for people who can afford a camera, film stock and develop film.
Cameras are now cheaper than ever.
I remember when I first started making films, there were two red cameras in all of Karachi. Now we have nearly 10 ARRIs that you can rent.
Also, the Internet makes so many different kinds of cinema available.
For a long time, we were only watching mainstream Bollywood films in Pakistan. And those films would inspire a lot of commercial cinema.
But those films in Pakistan had budgets of not even one-tenth of the Bollywood films.
I was able to get access to films like Titli and Gangs of Wasseypur and they looked more like the Karachi I know.
It was very strange to be at Cannes with Kanu Behl and Anurag Kashyap.
Those films were foundational to a lot of the independent works that we see coming out.
It felt within reach of what we could execute. So we owe a lot to what our fellow South Asian film-makers have done as we are building the infancy of this Pakistan industry.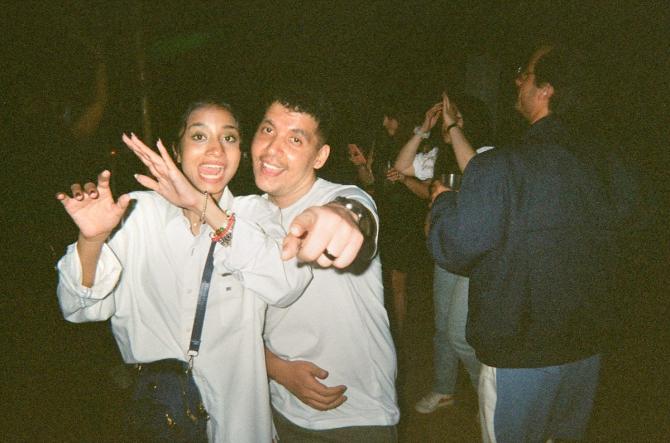 For a narrative, the script that you had, did you look for financing in Pakistan or it was all Canadian financing?
I look everywhere. I made a short film called 1978 that was 100 percent financed out of Pakistan.
It's difficult because you are not going to recoup money if you are investing.
It's very hard to convince Pakistani investors to finance a film.
For a long time, my producer Anam Abbas and I thought we were going to follow the European path of raising funds, as a lot of Indian independent cinema does as well now.
Then we were at the Berlin talent market in 2020, where we met Shant Joshi, who later became an executive producer on In Flames.
He liked the project and suggested that since we had Canadian passports, we should try to pursue Canadian financing.
A big impetus for why we choose to work in Pakistan was because we didn't feel there was space for stories we wanted to tell in the Canadian landscape. But what Shant and some producers like him in Canada are doing is they are changing what Canadian films look like. They are changing who gets to make Canadian films.
We accessed the fund to produce low budget first features.
We are the first Canadian funded film to shoot in Pakistan in Urdu.
Were you were born in Pakistan and at some stage, your family moved to Canada?
I was born in Pakistan. My family moved to Mississauga when I was nine, and I spent a few formative years there.
Then we move back to Pakistan where I did high school, and then back to Canada, where I got a theatre degree.
I have spent my foundational years in both countries.
I was volunteering at a film festival during my undergrad when I met Richie Mehta (Delhi Crime) who is also from Mississauga.
He told me, 'If you stay in this country, you will be telling immigrant narratives and they will put you in a box.'
That was reflective of the Canada that he knew and I took that advice to heart.
I looked around in the landscape and didn't see people who looked like me telling stories that I was interested in.
So I decided to build my career out of Karachi, where I spent the greater part of the last 10 years learning about the film industry there.
Feature Presentation: Rajesh Alva/Rediff.com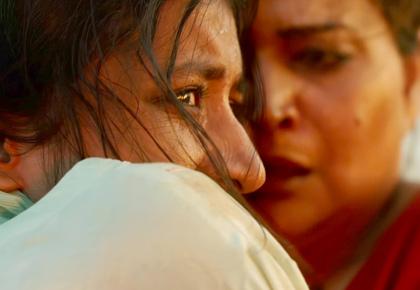 Source: Read Full Article