The remains of a Napoleonic general who died on a Russian battlefield two centuries ago was supposed to bring together the leaders of Russia and France.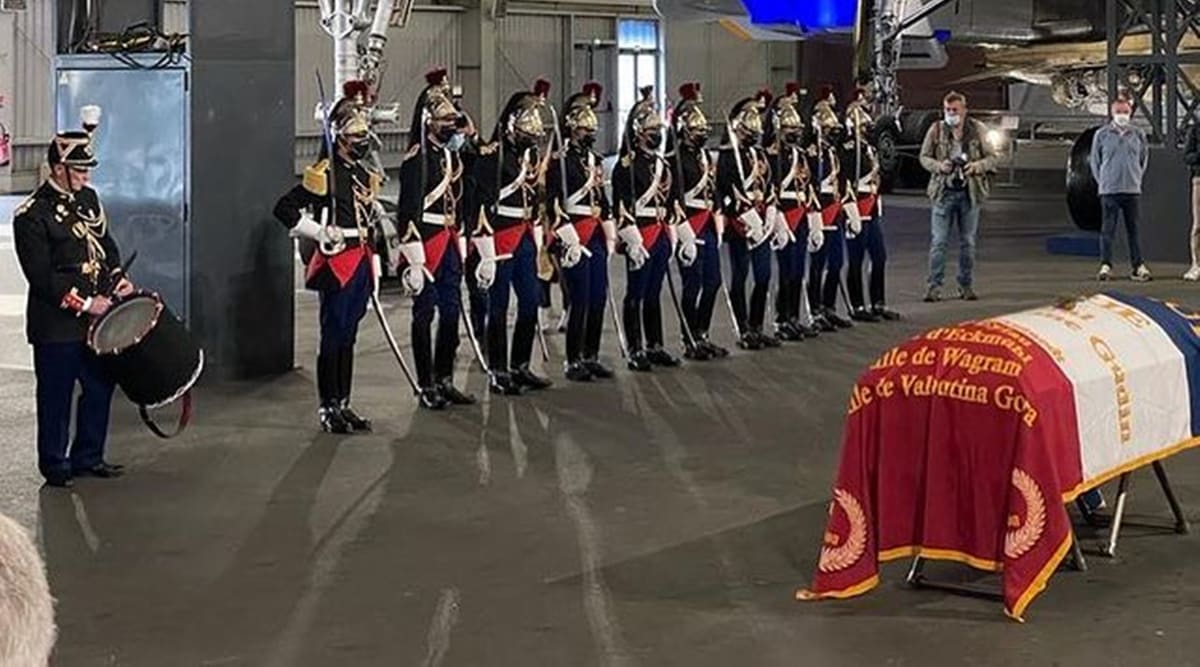 Written by Constant Méheut
The plan, to repatriate the skeleton of a Napoleonic general who died on a Russian battlefield two centuries ago, was supposed to bring together the leaders of two nations long at odds.
The remains of Gen. Charles Étienne Gudin, who was killed in action in 1812 during Napoleon's invasion of Russia, would be flown home with official pomp, and President Emmanuel Macron of France would host his Russian counterpart, Vladimir Putin, for a funeral that would serve as a symbolic burying of the hatchet.
Instead, Gudin's return to French soil July 13 was far more low-key: His coffin was flown in on a private plane chartered by a Russian oligarch and was welcomed with a small ceremony in a grim hangar at Le Bourget airport, near Paris, next to a decommissioned Concorde jet. The presidents were nowhere in sight.
"It was not the repatriation that was originally conceived," said Hélène Carrère d'Encausse, a French historian of Russia.
Once seen as an opportunity to leverage history for diplomatic purposes, the plan was eventually sunk by France's unwillingness to countenance Russia's increasingly tough domestic and foreign policies. The unraveling of the project also spoke to France and Russia's peculiar relationship, shaped by a complicated shared history filled with shadowy intermediaries and backdoor diplomacy.
Gudin's case, Carrère d'Encausse said, "reveals the complexity, the difficulty for France in this French-Russian relationship."
A favorite of Napoleon, Gudin distinguished himself in battle before being hit by a cannonball on Aug. 19, 1812, as the French army marched on Smolensk, in western Russia. His left leg was amputated, and he died of gangrene three days later.
The whereabouts of his grave remained a mystery until 2019, when Pierre Malinowski, an amateur history buff, mounted a search with a team of Russian and French archaeologists — and the Kremlin's explicit support.
Malinowski, 34, a former French army corporal and a former aide to Jean-Marie Le Pen, the longtime French far-right leader, had ingratiated himself with Russian authorities through a series of archaeological projects connecting France and Russia.
In May 2018, he was invited to celebrate Putin's fourth term. A few months later, Malinowski inaugurated the Moscow-based Foundation for the Development of Russian-French Historical Initiatives in the presence of Dmitri S. Peskov, Putin's spokesman. Peskov's daughter, Elizaveta Peskova, is the foundation's vice president. Peskov declined an interview request.
So when Malinowski initiated the search for the general's remains in spring 2019, French diplomats were apprehensive.
"When we heard about the case, we had questions," said Sylvie Bermann, the French ambassador to Russia from 2017 to 2019, noting that the Kremlin had long promoted French far-right figures serving its interests.
In July 2019, Malinowski's team found a rotten wooden coffin under the foundations of a Smolensk nightclub. Inside was a one-legged skeleton, later confirmed by DNA testing on several of his descendants to be Gudin's.
Malinowski recalled kneeling by the coffin and whispering, "General Charles Étienne Gudin, Count of La Sablonnière, I will take you home."
In Paris, the discovery did not go unnoticed. Bruno Roger-Petit, Macron's adviser on historical and commemorative issues, invited Malinowski to the Élysée Palace in August 2019 to discuss future steps.
"I walk into the office, and he tells me, 'Bringing Macron and Putin together with a general of the empire, that would look pretty cool,'" Malinowski said. "And that's how it started."
Roger-Petit said in an interview that he had originally envisioned a joint funeral presided over by Macron and Putin on the bicentenary of Napoleon's death in May 2021 — the kind of grand, symbolic bilateral event rarely seen between Putin and a Western leader.
Roger-Petit said Macron approved the idea. A few days later, Carrère d'Encausse sent Macron a letter, saying it could be "an embodiment of reconciliation" between France and Russia.
The discovery came as Macron, who had sought to reset relations with Russia since his election in 2017, had just invited Putin to his summer residence in southern France.
The presidents discussed Gudin's return over dinner during that visit, according to Bermann, who said it was seen as "an opportunity for rapprochement."
Alexander Orlov, a longtime Russian ambassador to France until 2017, said the repatriation was meant to "remind us that apart from the disagreements we have today, there are other things that bring us together."
Some of Malinowski's other projects have also aligned with Kremlin interests. Last year, he organised the reburial of the remains of French soldiers who died during the Crimean War of 1853 to 1856. The burial took place in Crimea, a former Ukrainian peninsula that Russia annexed in 2014, despite the opposition of most Western powers.
"Our projects," said Peskova, "are cultural, historical, diplomatic and political."
She added, "We look like Putin's puppets, but that's not on purpose."
By early 2020, Gudin's repatriation seemed to be on track. The coronavirus pandemic was expected to delay plans for several months, but Peskov told several news outlets that the Kremlin would respond positively to a French repatriation request.
The request never came.
In August 2020, Alexei Navalny, Putin's most prominent opponent, was poisoned in an operation later revealed to be orchestrated by the Kremlin.
Macron's enthusiasm for a rapprochement with Putin waned significantly. Plans for a joint presidential ceremony were postponed, diplomatic exchanges ceased and communications with Malinowski dried up.
"We entered a phase of total freezing," said Christian Bourdeille, president of Paris Napoléon 2021, an organisation that helped plan the ceremony.
"Gudin, really, was the word to avoid," he added. "Because everybody knew it was an extremely sensitive issue."
In early April, Malinowski received messages from a close adviser to Macron warning him that France's Foreign Ministry was blocking the return of the remains and suggesting that he instead repatriate them privately.
"That would bypass the diplomats," read one message that was seen by The New York Times. "We have to think of a way around this."
Carrère d'Encausse and Orlov said that France's Foreign Ministry had long expressed skepticism about Macron's reset policy.
Stripped of French support, and with Russia growing worried of a potential diplomatic episode, Malinowski went through a legal backdoor, issuing a demand for the remains on behalf of Albéric d'Orléans, one of Gudin's descendants.
Once all bureaucratic hurdles had been overcome, Gudin's coffin left Moscow on July 13 in a private jet belonging to Andrei Kozitsyn, a Russian oligarch who has funded several of Malinowski's projects.
Malinowski's brazen move ruffled feathers within the French government, and initially only a small, private ceremony had been planned upon the flight's arrival.
But controversy was growing in conservative media over France's refusal to honor a Napoleonic general, and at the last minute, the government sent Geneviève Darrieussecq, the minister for veterans affairs, to attend.
Darrieussecq announced that Gudin's remains would be buried at Les Invalides, where other leading military figures lie, as part of a national tribute to be held Dec. 2, the anniversary of Napoleon's victory at Austerlitz.
The move took many by surprise. But honoring a Napoleonic general will appeal to the conservative voters Macron is wooing before next year's presidential election, and for whom Napoleon embodies a lost grandeur.
Roger-Petit said Macron had always wanted Gudin to lie in Les Invalides.
"What matters is the result," he said.
To date, France has not extended an invitation to Russia to participate in the December tribute.
D'Orléans, the general's descendant, said the return of Gudin's remains had been overly politicised.
"My feeling," he said, "is that we missed a unique opportunity to improve relations between France and Russia."
Source: Read Full Article