Jennifer Lopez is known for her music, her flawless skin, and her backside. Lopez's but took up a portion of an interview she was doing to promote a new project. Here's what happened after the interviewer asked her if she was "born" with her "lovely" assets.
Jennifer Lopez was asked about her 'lovely' butt
Lopez visited comedian Alan Carr's show, Chatty Man, to promote her album, Love, but a chunk of the interview focused on her derriere. "Were you born with that lovely bum?" asks Carr. Lopez looks surprised and responds by shrugging her shoulders and saying, "What?"
In response to her surprise, Carr follows up by asking if Lopez did any exercises. She says she exercises to stay in shape (read more to learn about the Jennifer Lopez Workout routine) but not necessarily to get a bigger backside. Carr joked that he wasn't interested in getting fit, he just wanted a nice butt like hers. "I just want a nice bum so that people walking down the street go, 'Oh my God, look at that ass,'" he joked.
"You're crazy!" responded Lopez. She was amused by how interested he was not only in her behind but his quest to get a backside that elicited comments from strangers.
Did Jennifer Lopez insure her butt?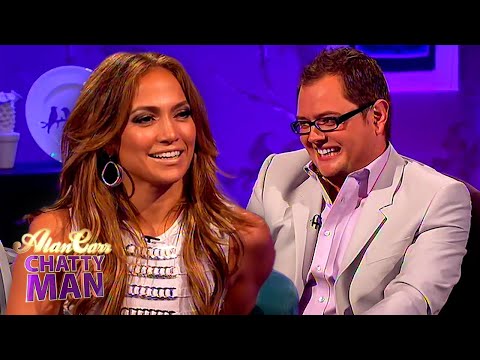 Another burning question Carr had was about whether Lopez insured her derriere. (This isn't the first time she was presented with questions about her appearance. Jennifer Lopez's bra caused Jay Leno to make a scene a few years earlier).
"Is it an urban myth that you insured your bum?" the Chatty Man host asks. Lopez says it is an urban myth that she insured her backside for $1 billion. "[The myth] was ridiculous, and it was years ago, and I believe it originated in the UK," says Lopez.
Carr says Lopez's backside is the one that most women want to have, but then he said, "there's a new bum in town." The comedian switched to a photo of Pippa Middleton at her sister Kate Middleton's wedding. "I don't think we need to compete for any title," replies Lopez. "That's kind of ridiculous."
Jennifer Lopez's 'Booty' song
Although Lopez used to seem uncomfortable talking about her famous assets, she seems to embrace the topic now. She tells Jimmy Kimmel she wasn't going to record "Booty" at first. When she went to the recording studio to hear the track by Diplo, Lopez says everyone in the studio told her she needed to record the song. She was resistant, telling them, "Never in my life will I do a song called 'Big Booty'—ever—it will never happen."
However, after she discovered her twins Max and Emme loved the song (Lopez calls her children "coconuts"), she decided to take the catchy tune to the recording studio.
Lopez usually takes new songs to her car so she can listen to them. When her children, who were 5 years old at the time, heard "Booty," she says they started "going crazy." She didn't know if they thought they were saying a "naughty" word, but they really loved the song. "Because they loved it, I recorded it," says Lopez.
I don't know if they thought they were saying a dirty word, if they felt naughty, but they loved this song and because they loved it, I recorded it."
RELATED: Jennifer Lopez Talks About Her Sex Scenes
Follow Sheiresa Ngo on Twitter.
Source: Read Full Article