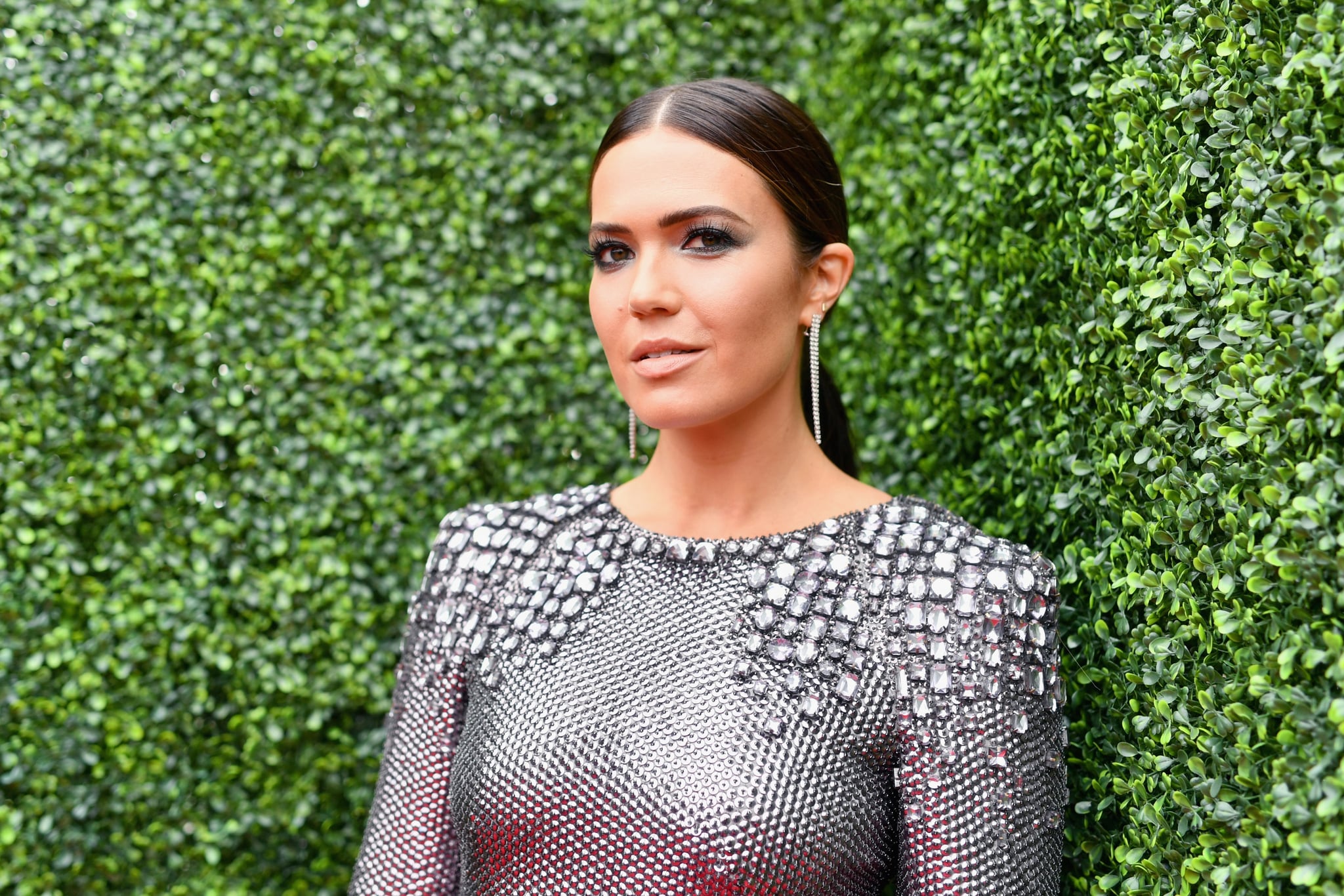 Image Source: Getty / Emma McIntyre
Mandy Moore is truly a chameleon. The This Is Us star has gained critical acclaim for her ability to portray the same woman through many different stages of life, but off screen, Moore has evolved a lot, too. The 35-year-old first rose to fame with her debut single, "Candy," almost 20 years ago and has since transformed from '90s pop singer to leading lady in films to award-winning TV star.
Since Moore is a natural at reinventing herself, it's only fitting that her panel at POPSUGAR Play/Ground, moderated by her This Is Us costar Susan Kelechi Watson, is all about the power of life's inevitable changes. Ahead of the festival on June 22 and 23 (get tickets here!), we had a chance to speak with the talented actress, singer, and songwriter about her career, her hit show, and what advice she would give her younger self now.
POPSUGAR: Your panel at POPSUGAR Play/Ground is all about personal evolution, which is perfect because your career has had so many different chapters with music, movies, and shows. Over the years, how much of that happened organically, or was it more that you wanted to make changes and try different things?
Mandy Moore: I've always been a big believer in letting things unfold organically. But that said, when I was first starting out, especially when I got my foot in the door in the business, however I found my way into it, I wanted to try my hands at it. So it's like music came first, but as soon as I got a foothold there, then the doors sort of would slightly ajar and I could wiggle my way through to try my hand in acting. And now I have a production company and I'm going to be producing; granted, that's 20 years down the road now. I think there's been, on one hand, nothing super strategic, but I'm conscious of the decisions that I'm making, and I always give myself a bit of a gut check before I say yes or no to something.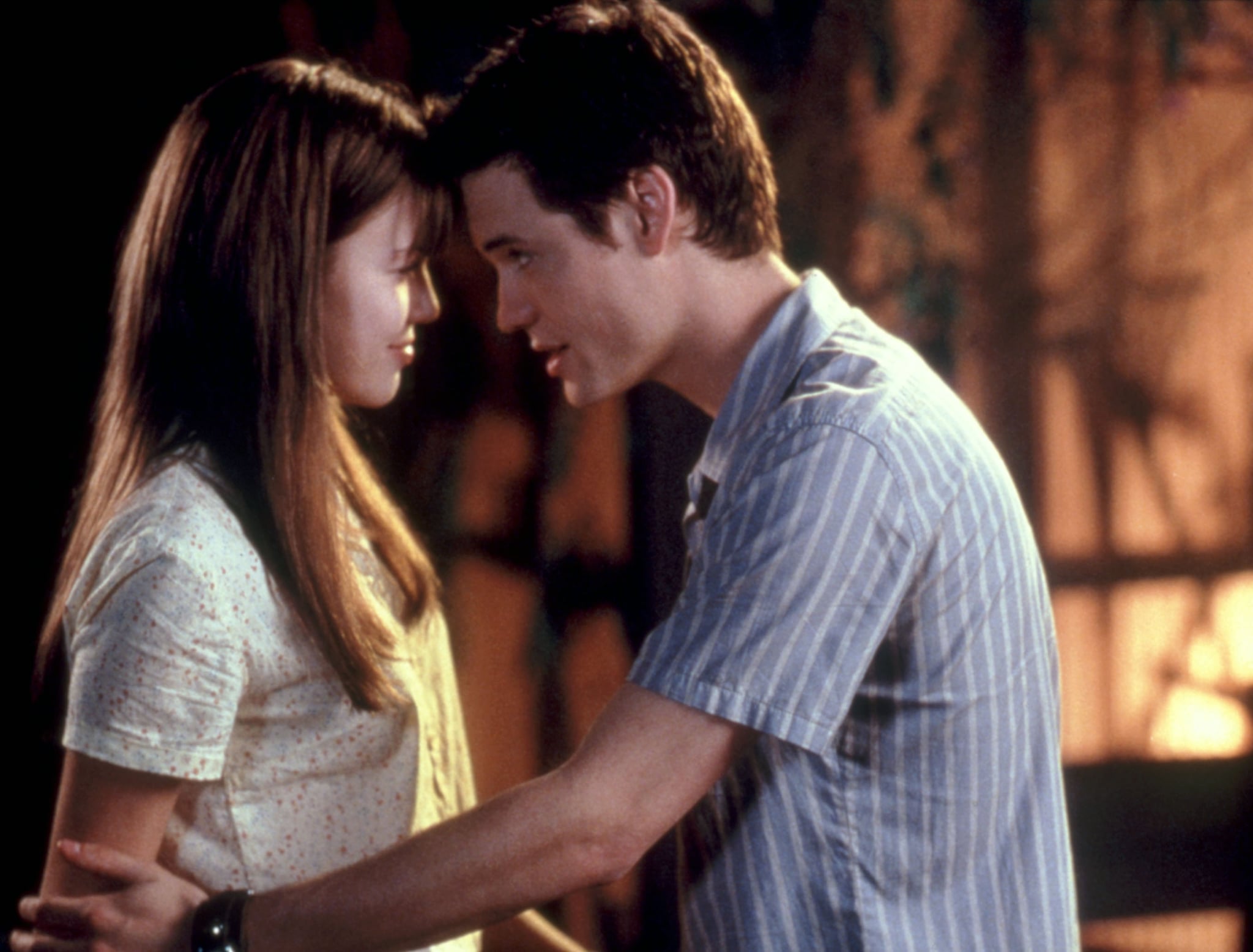 Image Source: Everett Collection
PS: A Walk to Remember in particular has such a big following over the years. Do you have a favorite memory from filming that movie specifically?
MM: I mean, everything. It still is, besides This Is Us, the favorite thing I've ever done. I was 16. I didn't know what I was doing and sweet Shane [West] was on this big TV show and had done a bunch of movies and was a bit older than me in that sense. So he really showed me the ropes. I didn't know how to hit my mark. I just was so green; I didn't know anything. So he was wonderful. I had never had that real experience of the Summer camp of [making] a movie. And we shot on location; we shot at Wilmington, NC, and we were there for two and a half months. All the time off set, we spent with each other. Wilmington was a pretty small little town, especially back then. The movie industry was up and going there, and Dawson's Creek was shooting there, and a couple of other little things. But it was like that downtown area that we all stayed in. We'd all go to dinner together. We'd hang out at people's houses. It was the high school experience I wasn't having in real life on a movie set. So there wasn't one particular moment. It was just like the capsule of that moment in time was so special. I was so young and vulnerable, and I didn't know anything. And I just thought, "Oh, every experience is going to be like that." And then, of course, I recognize that's not the case at all.
PS: You're on one of the biggest shows on TV right now, but what are your favorite shows to binge-watch? I know you're a self-professed fan of Queer Eye and talked about how you geeked out over meeting them. Are there any other celebs that you were starstruck over meeting?
MM: You know what, I definitely love a bunch of TV. I don't think I watch TV or binge as much as everybody else does. I'm a huge political junkie, so Last Week Tonight is probably my favorite show. I constantly am flipping the channel to CNN and MSNBC. I think the political theater that we have now is almost more compelling than anything you could watch on TV. So I geek out at politicians. I met Pete Buttigieg a couple weeks ago and just lost my sh*t; I didn't know what to say. But I think I'd be starstruck around any politician, literally from either side of the aisle. I think I'd be like, "Oh my God, I see you on TV," or, "I follow you on Twitter," or, "I know legislation that you've helped pass." I'm weird about that stuff. But I also go to award shows and kind of geek out about everybody. I don't see myself as a peer of theirs; I'm just excited. That's why I had fun at the Emmys this year; my best friend went with me and was my date, and we just had the best time people-watching.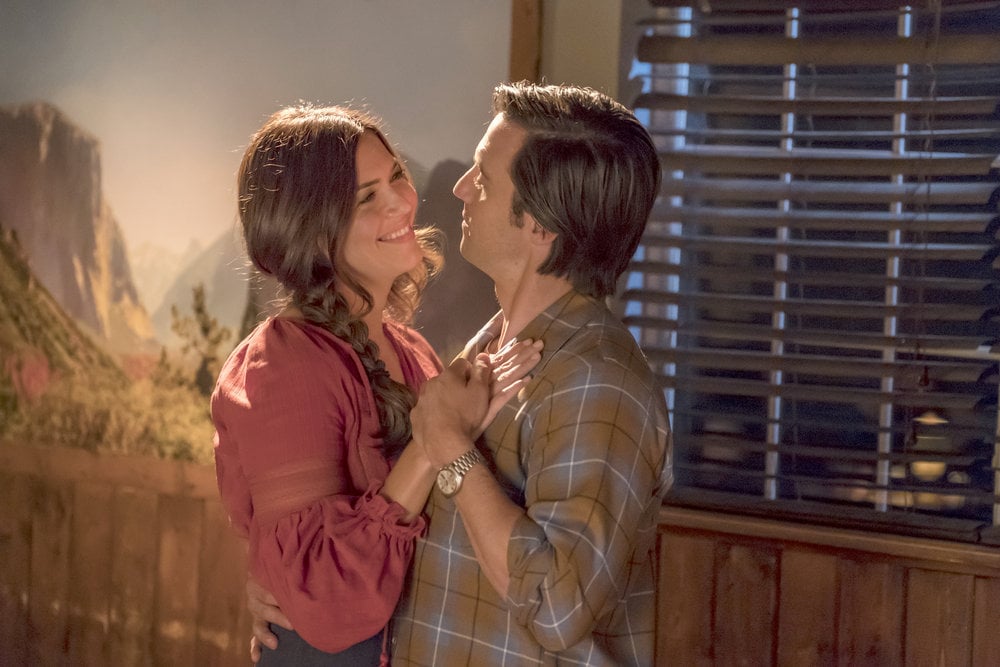 Image Source: NBC
PS: You've gained critical acclaim for your role on This Is Us, especially your ability to portray Rebecca through so many different decades. What was it like seeing yourself in makeup and costume for the flash-forward?
MM: It was very unsettling. It also took a really long time; it took about five and a half hours. So, by the time I showed up to set, people couldn't even look me in the eye. I think they were so disturbed, they were sad to see Rebecca in that state. I guess because when you look in the mirror and you're aged 50 years, there's nothing recognizable, there's nothing tangible to hold on to and go, "Oh, I see my mom or my grandma." There's nothing I can relate to. I just felt that sadness, too; not necessarily speaking to what's happening in her life, but just to see her there and clearly not in incredible health, and to think, here's this woman sort of at the end of her road was just very bittersweet.
PS: You've mentioned previously that Dan Fogelman is pretty open with the cast about storylines and where the show's going. I know you can't give too much away, but how different will season four be from past seasons?
MM: I think because we have the luxury that the show is running, for the foreseeable future at least, that Dan is able to really pace things out. He's on the record saying we're at the halfway point right now with these characters' stories. We've been lucky that from minute one, people have been really willing to go on this journey with us and they allowed us the luxury of just taking an entire episode to tell one character's story. It's different than really anything else that's on network television in that sense. People give us the leeway to do that, and then in that sense, I think season four is going to surprise people, because it's going to start out on a bit of a different note that maybe people aren't expecting. We'll start to address stories people have been wanting to know about since season one, like how did Miguel and Rebecca get together? I think we're going to delve deeper into Rebecca and Jack coming back from that road trip to California and trying to have this courtship. All of that, like back in Pittsburgh, how they find themselves back together and how both of their families factor into that as well. I'm excited about it.
PS: In addition to the show being obviously incredibly emotional and having great writing, it also has really great fashion too, especially with Rebecca through all the different eras. What is your favorite era to dress up for? Has her style influenced yours at all?
MM: I mean, obviously, my favorite era is going to be the '70s. That's when we have the most fun in our wardrobe fittings. At this point going into season four, we have a pretty expensive closet, and a lot of times I think the first fitting of each season, it's like three hours long and we try on a bunch of stuff that's not necessarily specific to any one episode, but it's like, "Let's keep it so we have something to draw upon." Because once the show gets up and running, we just jump from episode to episode to episode, and we don't even have time for table readings. So often you'll be shooting one episode and finishing it, and then the next day, you're starting the next episode. So you don't necessarily have time always to do a wardrobe fitting. But the '70s are the ones that we always take our time on, and we totally go the whole distance with accessories, and bags, and hats, and jewelry, and shoes. We have so much fun. And hair and makeup too, being able to play with color and different eye shadows and all that fun stuff, we kind of lose ourselves in that.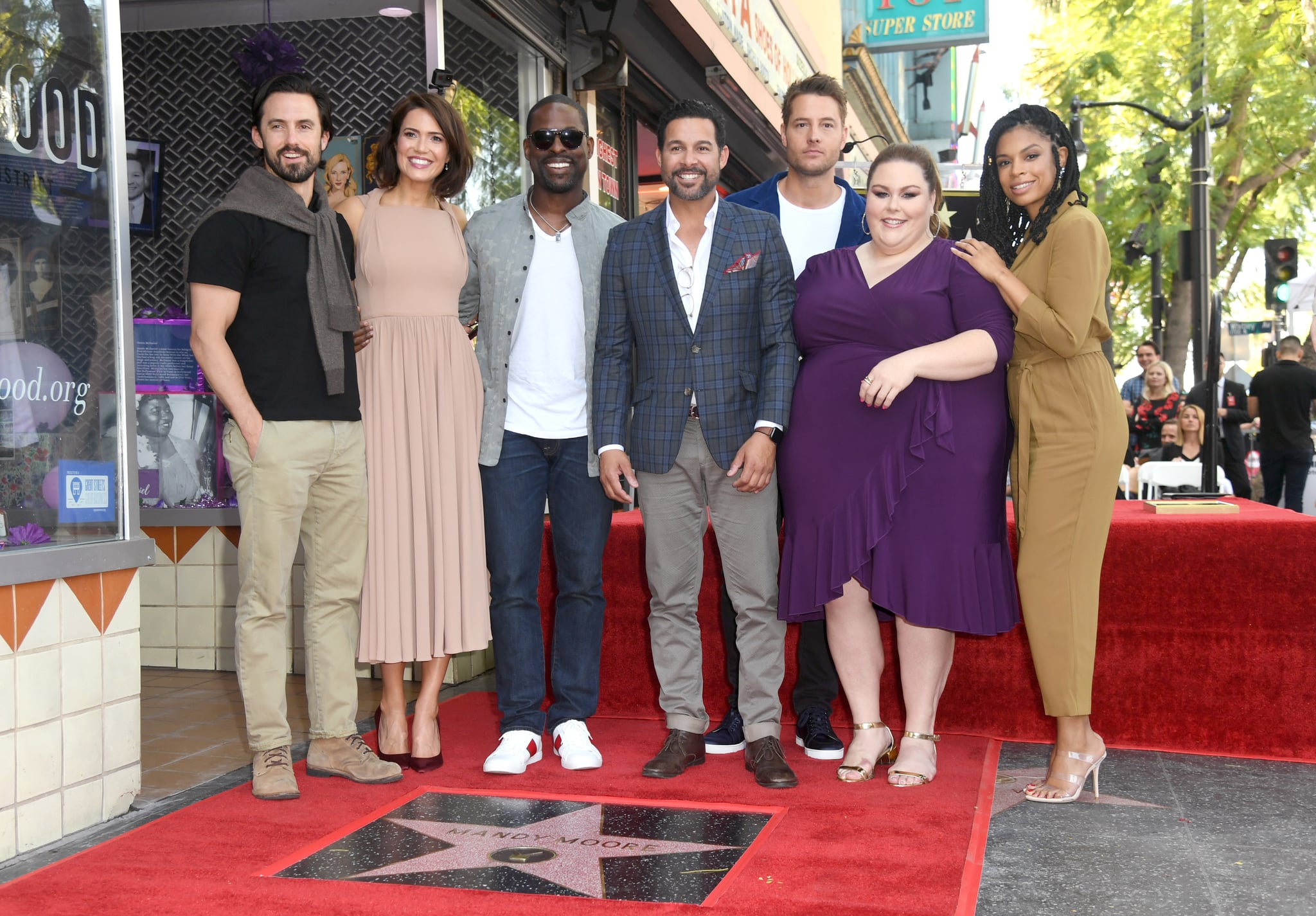 Image Source: Getty / Kevin Winter
PS: This Is Us is known for the iconic Pearson family, but the cast has become an iconic family of its own. What is your favorite part about getting to work with all of those amazing people?
MM: That I have lifelong friends now. They're the best. You hear these horror stories of people who are on shows that go the distance and they don't like each other and they have to pretend to like each other. I just don't know how they do it. I feel incredibly fortunate that every single person in this ensemble are remarkable human beings and we genuinely love each other. We genuinely support each other. We're excited about everything that's happening and everyone's respective lives personally and professionally. It's like to be on this journey together, and there is not a bad apple in the bunch, [it's] like the cherry on the sundae.
PS: In addition to your This Is Us costars, you also have an amazing group of female friends that we love keeping up with on social media. How would you say that your female friendships empower you the most?
MM: I feel like as I've gotten older, I really lean on my friends way more than I ever have. They nourish and sustain me, and I think we do that for each other more than anything. We're all really diligent about making time for each other. I mean, we love a trip. We love a trip together because we all love to travel, but we're big proponents and believers in giving ourselves something to look forward to. So it's like we don't end one trip without planning the next or at least setting something in motion, putting it out in the world like, where are we going next? Are we going to Austin, are we going to Nashville, Charleston? We're already planning Halloween again. We want to go back to New Orleans because we had so much fun being there for Halloween last year. Yeah, I'm a big believer in giving ourselves something to look forward to because it helps, again, sustain you. We all work really hard. I have this incredibly empowered badass group of ladies in my life that are all just at the top of their field and really am so proud of all the stuff that they have going on their lives. So it's you work hard and you play hard. We all believe in that.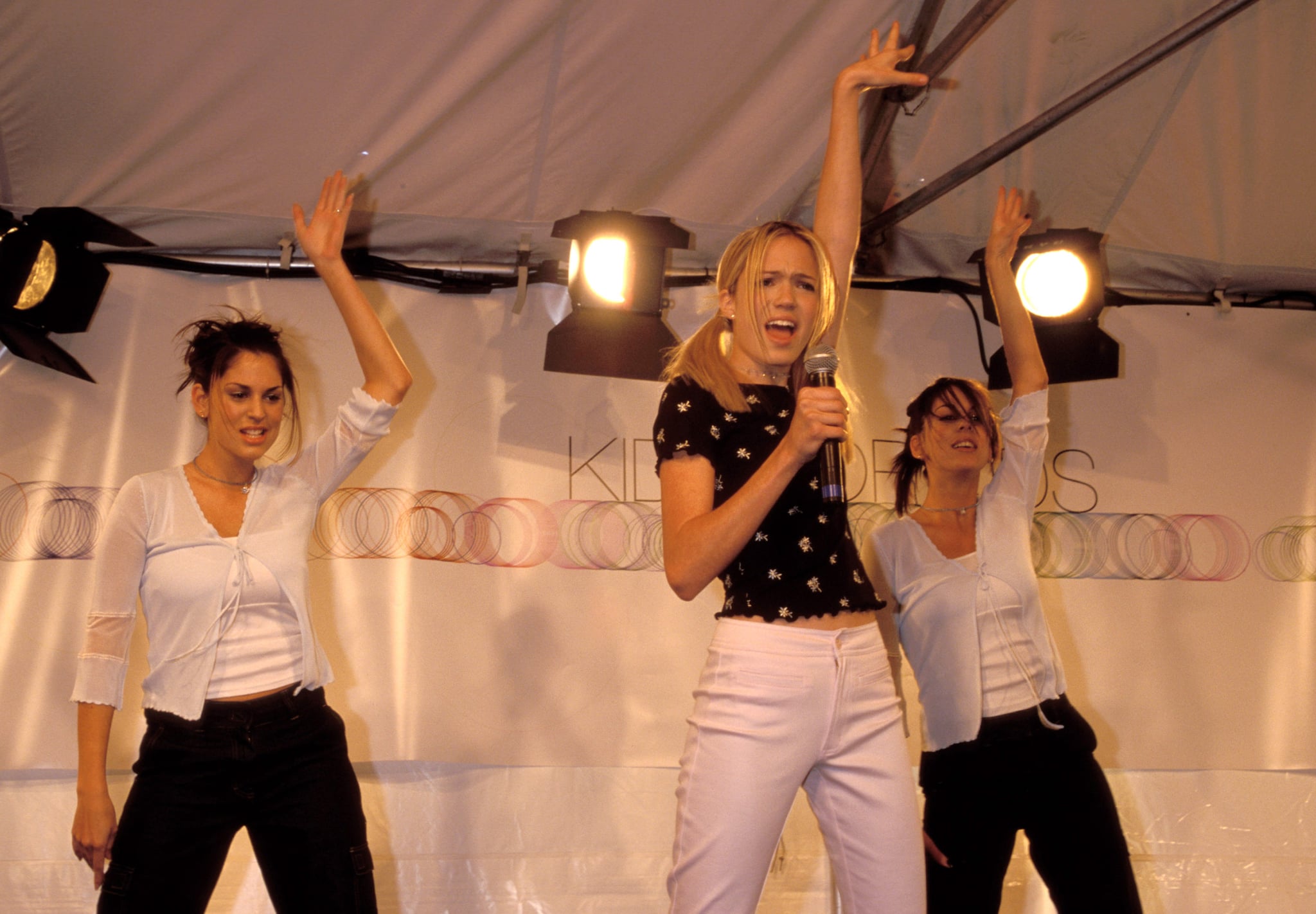 Image Source: Getty / KMazur
PS: This year marks 20 years since you rose to fame with your first single, "Candy." Looking back now, what kind of advice would you give your younger self?
MM: I don't know if I would change anything necessarily. I guess what I would tell myself in general is just get ready for the natural ebb and flow of life and a career and appreciate wherever the journey takes you. I wish I had said yes to more, been open to more when I was younger. I was so concentrated on just putting one foot in front of the other and there was so much unknown roads that lay in front of me, I was so just concentrating on getting through the day. I was tremendously overwhelmed at going from being a regular high school student to being on MTV and touring with the Backstreet Boys. I traveled around the world and instead of saying yes to "Hey, do you want to go to the zoo?" and "Want to go out to dinner here?," I really sort of lived a much more insular life. It's only now that I've recognized how much I love traveling, meeting new people and seeing different cultures and really taking advantages of the places that my job takes me. I wish I had paid a little bit more attention to that when I was younger instead of just thinking about work, because there's so much outside of what we do that defines us and helps us grow and evolve. I wish I had just kept my eyes a little bit more open, but that's only something that you learn in time and with a little perspective and distance.
Source: Read Full Article