Wilful defaulters owe SBI Rs 80,000 crore as of June.
10 nationalised banks are owed another Rs 1.5 trillion.
The outstanding amount due from wilful defaulters has risen at a pace of over Rs 100 crore daily since March 2019.
The amount due from wilful defaulters has risen by at least Rs 1.2 trillion since March 2019, which marked the end of the last financial year before COVID-19 began to make its impact globally, starting with China towards the end of 2019 and India from the first quarter of 2020.
The total amount due has risen more than 50 per cent to Rs 3 trillion as of June 2023, according to data from TransUnion CIBIL.
The data is updated by various financial institutions with varying frequency.
The figures reflect the latest available numbers. The amount may be larger since at least one nationalised bank and one private sector bank have not reported June numbers yet.
The overall amount has remained over the Rs 3 trillion mark for at least four quarters in a row (chart 1).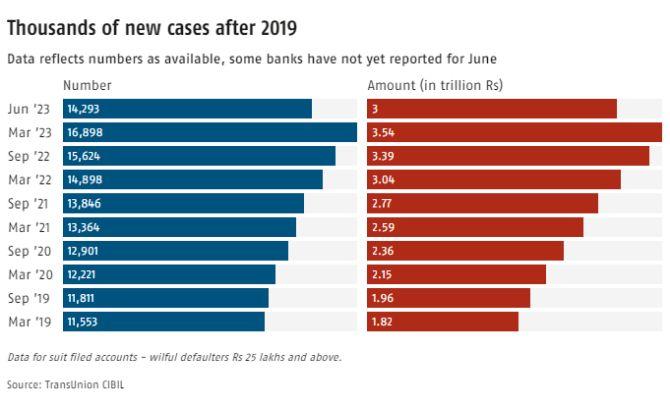 A wilful defaulter is an entity that does not pay back a loan despite the ability to do so.
The Reserve Bank of India recently proposed that wilful defaulters must be declared as such within six months of the loan becoming a non-performing asset (NPA).
There is currently no timeline for such a declaration Government-backed banks continue to remain the most vulnerable.
While private sector banks and other financial institutions have seen a marginal increase in their share of such loans, nationalised and other government-owned banks still account for the largest amounts.
Their share in wilful defaulter amount outstanding was 77.5 per cent in June 2023 (chart 2).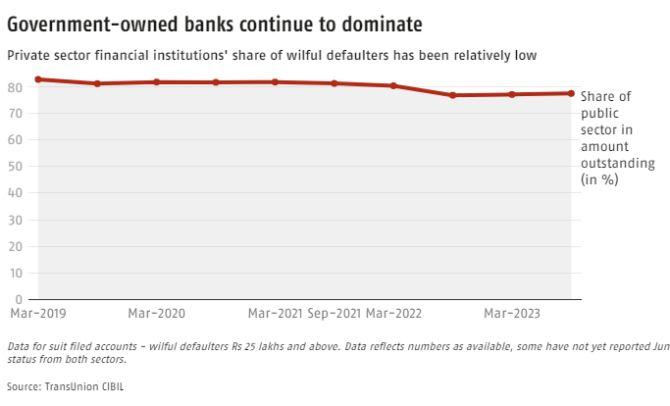 Wilful defaulters owe the State Bank of India Rs 80,000 crore (Rs 800 billion) as of June.
Ten nationalised banks are owed another Rs 1.5 trillion.
The private sector banks' outstanding amount is Rs 53,500 crore (Rs 535 billion) in comparison.
The geographical break-up shows that much of the outstanding amounts are often in developed states. (chart 3).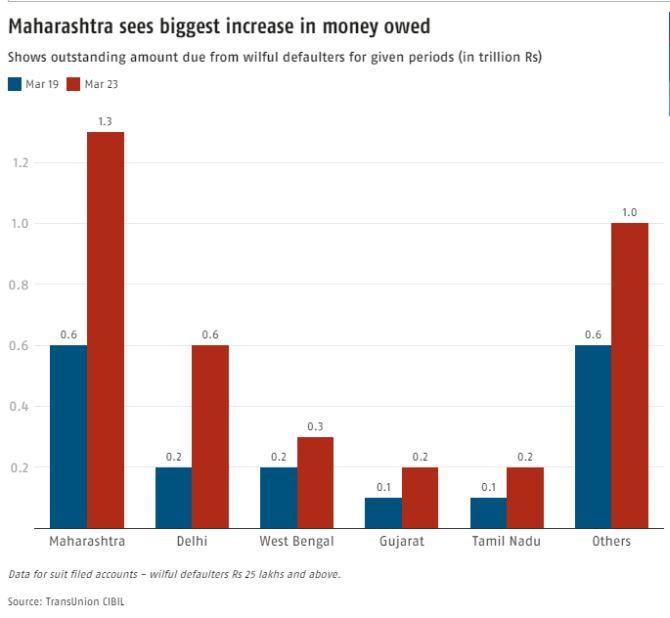 Maharashtra, Delhi, West Bengal, Gujarat and Tamil Nadu formed the top five states in terms of such loans.
They accounted for over 70 per cent of amounts due as of the end of the previous financial year.
Maharashtra has seen the largest absolute increase since March 2019.
The total amount outstanding rose from Rs 0.6 trillion to Rs 1.3 trillion during this time.
The fastest rise was in Delhi. There was a 200 per cent increase to Rs 0.6 trillion between March 2019 and March 2023, compared to 95 per cent across all places (chart 3).
Feature Presentation: Aslam Hunani/Rediff.com
Source: Read Full Article