Drishyam 2 movie review and release LIVE UPDATES: Starring Mohanlal in the lead role, Jeethu Joseph's Drishyam 2 is streaming on Amazon Prime Video.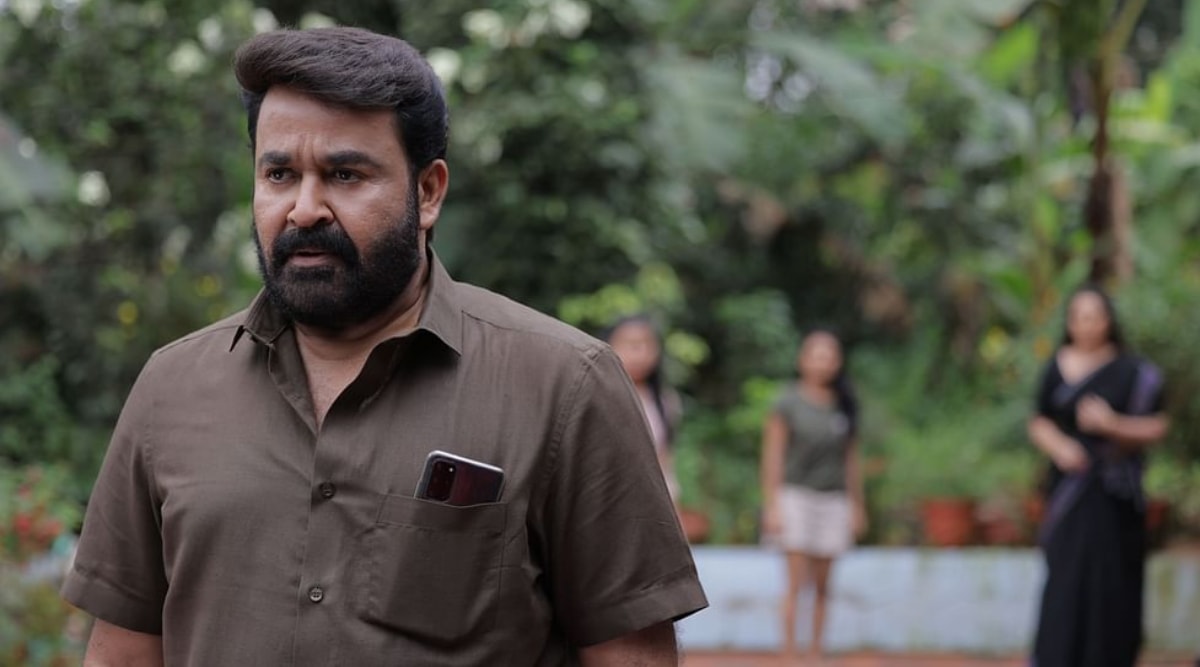 Mohanlal starrer Drishyam 2 has released today and is now streaming on Amazon Prime Video. The story of Georgekutty and his family picks up after the events of the first film where the family went through a trauma but were somehow able to pull off 'a perfect murder'. But is there something like a 'perfect murder'? We get the answer to that question when ghosts of the past come back to haunt Georgekutty.
Alongside Mohanlal, Drishyam 2 also stars Meena, Ansiba Hassan, Esther Anil, Asha Sarath, and Siddique among others. Jeethu Joseph has directed the film.
From what we gathered from the trailer, Georgekutty has become a much wealthier man now. He now owns a theatre and is even planning to produce a film. Things seem to be getting difficult for him and his family, and now the murder case from Drishyam is reopened and the family is pulled back into the investigation.
In an interview with indianexpress.com, Mohanlal spoke about the sequel. "We had been planning to do Drishyam 2 (for a long time). It was in my mind, Antony Perumbavoor's mind, and Jeethu's mind. And suddenly it happened. When Drishyam 2 started rolling, we were all prepared. We weren't sure when this film would happen. But, it had to happen. Georgekutty and his family should be remembered by the audience. Because it was such a cult film. Thanks to Jeethu for bringing out such an intelligent film," he said.
Follow this live blog for all the updates on Drishyam 2
A fan @AkshayKrish2255 shared on Twitter, "#Drishyam2 Review : 5/5 A perfect sequel that can be given to a movie like #Drishyam. #JeethuJoseph Again proved that he is the master of thrillers. First half started with slow pace same as in the first part. Then the interval came with a bang."
Vasuki Bhaskar shared via Twitter, "Couldn't have wished for any other climax. #Drishyam2 There can only be one @Mohanlal the great. What an amazing write. Much love & Respect #JeethuJoseph. My best Friday release online watch, by far."
https://www.instagram.com/p/CLb-vTwAv59/
A post shared by Prithviraj Sukumaran (@therealprithvi)
In a long post, "Prithviraj Sukumaran wrote, "Drishyam 2. Been wanting to say something about the film for a long time now. Guess since the world premiere is just hours away..it's ok to not hold on any longer. Following up a cult piece of cinema with a sequel is a huge responsibility. And with something like Drishyam, a film that pretty much changed the schematics of the entire industry, the pressure on a proposed 2nd part would have been immense (trust me..I know!). But how gloriously does Jeethu pull it off! Where do you take Georgekutty 6 years down the line? Has his incredible penchant for constructing and living a fictional story softened? Does he make a slip? Does he finally get outsmarted? Does time and law catch up? If you think you already know..you're in for one hell of a surprise! Fantastically written and conceived..this is Jeethu's best film after Drishyam! He was the first person I called after watching it. I'm so so happy for you brother! And then, I walked over to my neighbouring apartment to meet a certain someone. Now coming to the small matter of that certain someone..who goes by the name of @Mohanlal. I'll say just this for now.. Class is permanent..I repeat..PERMANENT! Georgekutty is undoubtedly one of the most iconic characters of Malayalam cinema. Cheta..I cannot wait to direct you again and be directed by you! ❤️ PS: Murali Gopy, the actor, has arrived. Subtle, brilliant. I say this after having watched the final edit of KURUTHI as well!"
Sharing the film's link, the actor tweeted, "A new chapter of my story is here."
Sreedhar Pillai tweeted, "#Drishyam2 @PrimeVideoIN -Fantastic!A sequel as good as #Drishyam. #JeethuJoseph nailed it smart writing & taut thrilling moments. @Mohanlal as #Georgekutty is extraordinary along with #Meena & #MuraliGopy.Story opens 6 years after events of #D1 & police hasn't closed the case…"
In an interview with indianexpress.com, Drishyam 2 director Jeethu Joseph said that it took him five years to finalise the script of the sequel to the 2015 film. Jeethu said he wanted to explore the after-effects of the trauma that the family faced in the first film. "I thought what would be the reaction of the society to that crime? Georgekutty has been accused of a crime and now people are realizing that there is something (fishy) about it. There is no smoke without fire, right? People start gossiping," he said.
He added, "Georgekutty's standard of life has increased. Now he has become a theatre owner. Automatically, it leads to jealousy in the neighbourhood and people start making stories. So how these sorts of things will affect Georgekutty's family? Then I thought okay, family trauma should be the core element of this film."
After the 2015 film became a hit, Drishyam 2 inspired remakes in Tamil, Kannada, Telugu, Hindi, Sinhalese and even in Chinese. This is the first sequel that takes the audience back to the crime scene.
Source: Read Full Article