If you want to make your enemy look like a threat, at least make them formidable, sighs Sukanya Verma.
We've watched no love lost between India and Pakistan's diplomatic equation through Bollywood's eyes in scores of movies.
That vitriolic tone of hyper-nationalism championed by Sunny Deol in the late 1990s makes a toned-down return in Mission Majnu's reproachful voiceover that paints Pakistan like a petulant child crying for a fancy pencil box because India has one too.
Of course, it's no stationery but a hush-hush nuclear power plant that Pakistan conspires to set up after learning about India's successful nuclear bomb test run in Pokhran.
'Bhooke pet so jayenge. Ghaas kha lenge. Lekin Pakistan nuclear bomb bana ke rahega,' pledges padosi mulk's prime minister (Rajit Kapur).
India, ever wary of Pakistan's propensity for reckless impulses, vehemently protests with 'Woh ek kattar desh hai' and 'Pakistan jaise destructive desh ke paas nuclear bomb hona India ke liye tabahi hai.'
Where one nation gets busy quietly employing zealous scientists to create weapons of mass destruction, another plants moles to catch a whiff of their every single move.
The action quickly shifts from internal meetings in Islamabad (1974) to romance in Rawalpandi (1977) when Tariq, the tailor (Sidharth Malhotra), falls in love at first sight with a sightless girl named Nasreen (Rashmika Mandanna).
Think Aamir Khan and Kajol in Fanaa sans the charm, chemistry, catchy songs or cheesy poetry.
Blink and they are already married and expecting their first baby.
It's a love story nobody is invested in. Least of all Tariq, who excuses himself so often in its 129 minutes running time and yet arouses nobody's suspicion.
Conveniently for him, Nasreen is blind to his clandestine pursuits.
She's blind, period.
Wearing a nose ring and smiling in response to everything is Rashmika's role in a nutshell.
Mission Majnu would be a breezy title for a Dilwale Dulhania Le Jayenge style contemporary romance but it never finds a suitable context as it is in Shantanu Bagchi's espionage drama.
Bagchi and his band of writers — Parveez Sheikh, Aseem Arrora and Sumit Batheja are so preoccupied portraying Pakistanis as caricatures, they neglect the intelligence bit in RA&W agents too. If you want to make your enemy look like a threat, at least make them formidable.
What you see is Ashwath Bhatt's bug-eyed President Zia-ul Haq growling like a Wasseypur gangster.
Real life personalities like then Indian prime ministers Indira Gandhi and Morarji Desai show up too, but its potential for informal tete-e-tete between national leaders is never truly exploited.
Instead, Mission Majnu's foolhardy faith in small talk plays out as Tariq's sole strength.
All he has to do is innocently ask and all of Pakistan — commode salesmen, school kids, bored grandmas, tattle-tale Brigadiers — sweetly bare their souls and secrets to him.
Sidharth has a face you'll want to gawk at, but not the slyness the role demands to smartly scoop out information.
The writing doesn't ever ask that of him either. Or Kumud Mishra and Sharab Hashmi, his partner-in-espionage.
The troika makes themselves and their curiosity so obvious wherever they go, but Mission Majnu insists Pakistan cannot see it.
If anything, it makes the latter's last minute retaliation forcefully dramatic and phony.
Another source of constant exasperation is how Tariq is berated by a grump (Zakir Hussain) he reports to on the other side of the landline for being a traitor's son.
It's like the veteran actor was charging for saying 'gaddaar' per word basis.
The same goes for Bollywood's depiction of Pakistan.
Get everyone to say 'ji janab' in every second, every sentence, every scene, there, you have Pakistan.
After cutting down Pakistan to size in every conceivable way through three fourths of the movie, Mission Majnu puffs up its chest in pride, 'Hum India hai. Hum nafrat pe nahi hum pyaar pe palte hain.'
That's rich coming from a movie about countries wrestling for nuclear supremacy.
Mission Majnu streams on Netflix.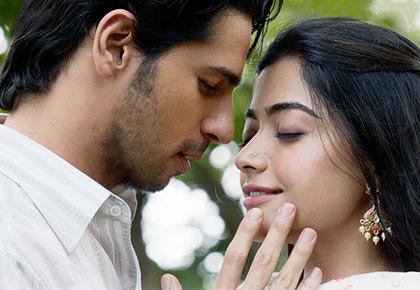 Source: Read Full Article