More than the jingoism overkill, it's the tedious tone of telling stories of this genre that hurts Pippa, observes Sukanya Verma.
Three siblings find their patriotic voice in 1971.
But if you think it's a metaphor for India, Pakistan and Bangladesh's tempestuous relations, it's not.
Although Pippa is set around Pakistan's internal conflict that forced India to intervene, resulting in the secession of East Pakistan and the birth of Bangladesh, Raja Krishna Menon's listless retelling of the historical events inspired by Brigadier Balram Singh Mehta's book, The Burning Chaffees satisfies neither as a war drama nor as a personal story.
India's contribution in the Bangladesh Liberation War is a high point in its diplomacy.
Trouble brewed within Pakistan ever since the Partition of 1947 when West Pakistan not just blatantly denied East Pakistan's political autonomy but brutalised its predominantly Bengali identity in instances of genocide like Operation Searchlight prompting a mass exodus. That inconvenienced India to the point of war for the sake of justice.
Whether it was out of necessity or compassion, India ended up looking good and doing good.
Pippa uses that war-torn chapter to tell Pakistan off, if not as angrily as Sunny Deol, while arguing — sometimes to not fight is not an option. More than the jingoism overkill, it's the tedious tone of telling stories of this genre that hurts Pippa.
Co-written by Menon along with Ravinder Randhawa and Tanmay Mohan, Pippa follows the journey of three siblings and their individual nationalist fervour.
Brigadier Balram Mehta (Ishaan Khatter) is a young, devil-may-care second-in-command of the 45th Cavalry navigating PT-76, a first-of-its-kind amphibian tank whose nickname inspires the movie's title.
Balram's big brother, Major Ram (Priyanshu Painyuli) is a humourless albeit decorated war hero engaged in a covert operation with the Bangladeshi guerrilla forces while their sister Radha (Mrunal Thakur) juggles between medical school, a marriage proposal and a clandestine job at an intelligence agency.
There's no real camaraderie among the troika whether competing for their martyr father's big boots to fill or sensing the sorrow in their mum's (Soni Razdan) words in favour of immigrants everywhere.
Balram's constant irreverence makes little sense except to render him silly. One second he is cribbing like a clueless child, next he is poetically claiming, 'zid hai vardi, aan baan shaan sab vardi, Pippa appears confused about his coming-of-age trajectory.
What's lazier is how it takes just one melodramatically filmed moment of immigrant plight to instantly turn him into a picture of responsibility.
Pippa's postcard portrayal of Bangladesh's torture, rebellion and grief refuses to dwell on flesh and blood emotions or voices of its people. All the wicked West Pakistanis are either gun-toting robots or an overzealous subordinate (a hamming Inaamulhaq) wanting to scoop information out of a deadpan-even-in-detainment Ram.
Add the latter's impassive exterior to Pippa's superficial interest in exploring the damaging effects of warfare and the price of patriotism and we have a sterile take on war that struggles to decide who it wants to rescue more — brother or Bangladesh?
As its most token presence, Radha's cryptographic genius only highlights the fuzzy tone of Pippa's narrative. Even music composer A R Rahman's poignant score gets diluted around the ensuing confusion.
There's a hearty quality to Ishaan, but in Pippa he's trying too hard.
Priyanshu Painyuli's overly serious, surly rendition of a man forced to grow up before time makes him more insufferable than he needs to be.
As the only two women in Pippa's all-male universe, Mrunal and Soni Razdan start out promisingly but, ultimately, have precious little to do.
Nor does the supporting cast have it any better.
Between haphazardly filmed battles and rushed up heroics, Pippa doesn't live enough with its characters for us to feel their loss.
On a more curious note, then army chief General Sam Manekshaw (and subject of Meghna Gulzar's upcoming biopic starring Vicky Kaushal, also produced by RSVP films) makes a robust cameo in Kamal Sadanah's delightfully sturdy demeanour and supremely confident skin.
Too bad Pippa doesn't make much of his strategical mind or then prime minister Indira Gandhi's (Flora David Jacob is one more name in Bollywood's ever growing list of Indira obsession) political shrewdness that led to a major victory on both — diplomatic and humanitarian front.
Pippa? More like pipsqueak.
Pippa streams on Amazon Prime Video.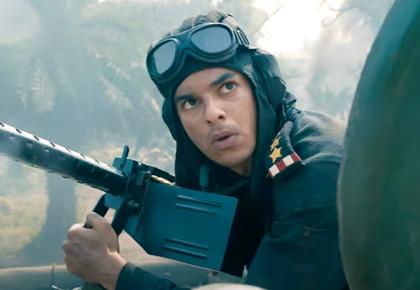 Source: Read Full Article