Sanjay Gadhvi once revealed to Subhash K Jha that he never wanted to make Dhoom..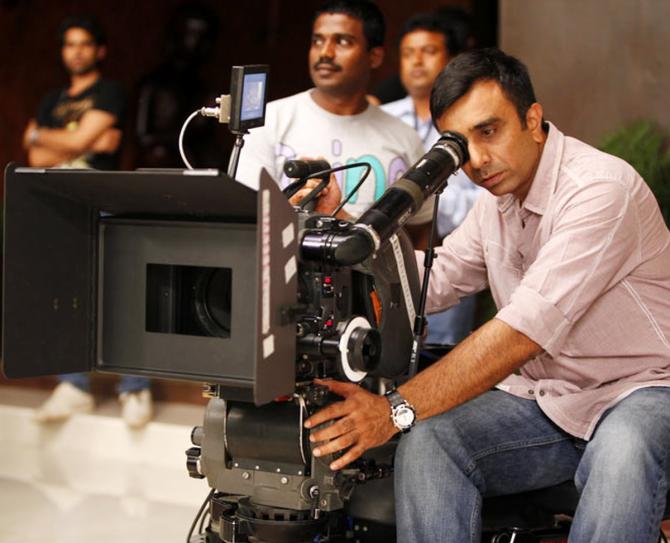 Sanjay Gadhvi died on Sunday morning.
Once Sanjay left Yash Raj Films, his career never reached the peaks of Dhoom and its sequel Dhoom 2.
After his death several film-makers felt Sanjay Gadhvi should have never left Yash Raj. But did he have a choice in the matter? Or did he feel he had enough of Dhoom?
In a conversation with me, Gadhvi had said, "When did Adi (Yash Raj Chairman Aditya Chopra) and I ever stop connecting for people to think that I had broken away from Yashraj? I finished my three-film contract with them and moved on."
"As simple as that. As for Dhoom, I was done with that after I made the first two films. Even if I was offered Dhoom 3 I would have turned it down," he had added.
"Ajab Gazab Love came to me at a time when I needed to laugh at myself and the world. It proved the biggest stress buster in my life. I couldn't handle another Dhoom film in this life. And Adi was very happy for me."
Gadhvi could never shrug the Dhoom tag off, no matter how hard he tried.
Aptly titled, Dhoom creates a zigzagging zoom across chic frames. It doesn't let you stop to catch your breath.
Not a dull moment in sight, Dhoom flicks the essence of the Hollywood speed thriller — style and shrieking sounds — and turns it to its own advantage.
While wry cop Jai (played by Abhishek Bachchan) and marauder on the bike Kabir (John Abraham, so deapan he makes you thankful for the momentum in the narrative) are single-mindedly urbane in their design and purpose, lovable crook Ali (played with lovable crookedness by Uday Chopra), is a straightforward desi stereotype.
You can trace him down to Ashok Kumar in the old Kismet, and then you can carry forward his lineage to Manmohan Desai's Amar Akbar Anthony.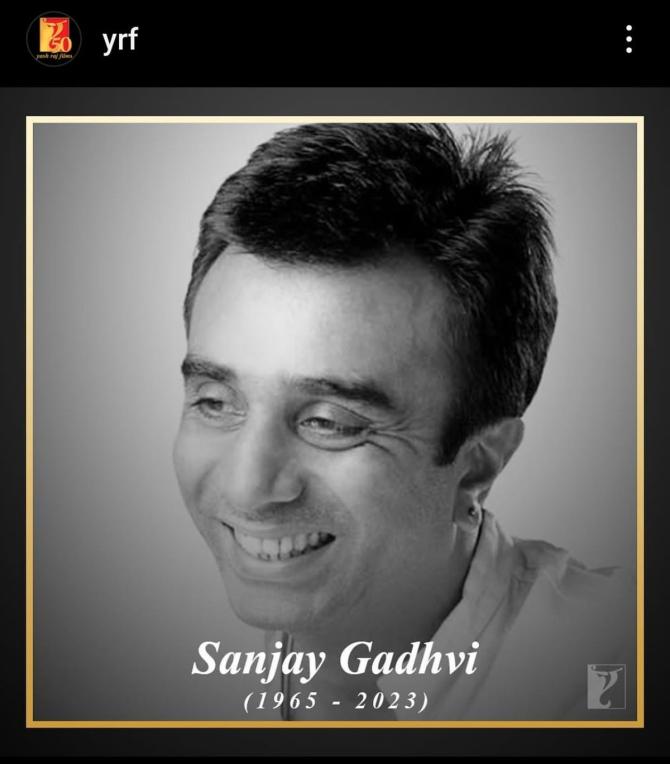 While Uday Chopra's rapport with Abhishek's Bengali wife (Rimii Sen) has echoes of Lethal Weapon, John Abraham's fiendish transformation from a pizza boy to a bank robber is a subversion of the Superman legend.
The power of moving images is employed in Dhoom to create a stimulating heady, almost aphrodisiac world of amorality.
The cop on the prowl and the villain on the bike with that menacing growl, are almost interchangeable in their world-view.
The narrative in Dhoom borrows heavily from Hollywood films like Gone In 60 Seconds, The Fast & The Furious and biker movies of the 1960s like Easy Rider. The climax that echoes Steven Soderberg's Ocean's 11.
To director Sanjay Gadhvi's credit, the stormy melange that takes the plot from Kismet in the 1940s to Ocean's 11 in 2002, never gets unwieldy or even remotely vulgar.
Though fast-paced and amoral, the world of Dhoom is essentially non-toxic and fun-filled.
The violence is contained and often comic-bookish. The chases and stunts, marvelously orchestrated by stunt director Allan Amin, hide the enormous absurdities in the narrative.
Dhoom attempts to redefine the laws of formula film-making.
Its chic and anchorless narrative mode catches you off-guard.
The focus on monstrous machines stops short of being overdone, thanks to the director's control over his material.
Dhoom 2, which released in 2006, two years after the first Dhoom films, is about letting your hair down as far as it can go.
The carnival-like atmosphere is carried to Brazil where the sweaty tropical mood is imbibed into the characters as they play an ambivalent game of cat and mouse.
There are the law-enforcers and the law-breakers. But how do we tell them apart? Certainly not by the glamour quotient, which is, applied to the antagonist Aryan (Hrithik) and his moll Sunehri (Aishwarya) far more intently than the cop-hero Jai (Abhishek) and his sidekick Ali (Uday Chopra). And if you add Bipasha Basu's double role to the heady brew, you've got a film that's the equivalent of a glossy calendar.
Dhoom 2 fuses furious action and svelte skin show in a mix that leaves you dizzy.
Movies were never meant to be so heady, unsteady and ready to rock.
Aishwarya's doll-like movements in the song Crazy Kiya Re drive one crazy indeed.
The fast-paced and superbly crafted moments of aerial and ground stunts are all centered on Hrithik.
Dhoom 2 is bigger, brighter, sexier and sassier than the earlier film.
Director Sanjay Gadhvi doesn't try to please the audience. A sense of renewed and engaging deja vu is created by the film's own volition.
All the chutzpah and chirpy glamour from the first film is back with loads of oomph.
The storytelling careens from the downright clownish courtship (Bipasha and Uday Chopra) to the outright passionate.
Aishwarya and Hrithik are arguably the best-looking couple Bollywood has ever seen. They look good and vibe so beautifully together.
The light falls just right on each actor. I can't think of one film since Sholay that has showcased a bunch of top-notch actors in a more flattering light.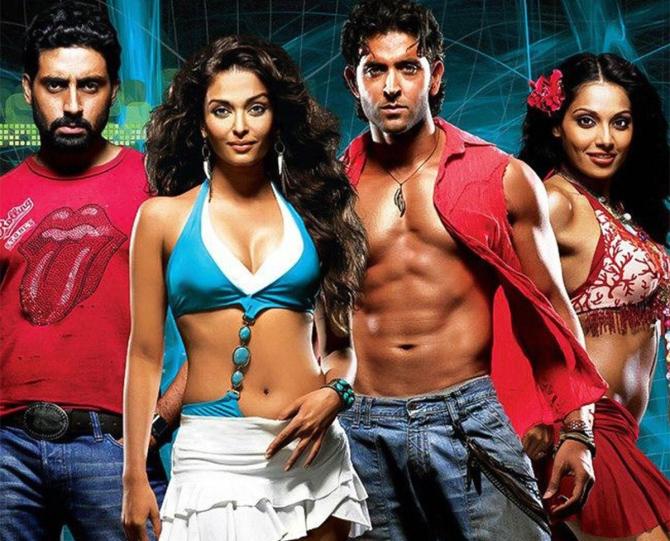 Gadhvi named many Hollywood heist-caper films as his inspiration for Dhoom and Dhoom 2.
Films about daring diamond heists have always occupied a major portion of Hollwood and Bollywood. Think Hollywood. Think The Thomas Crown Affair, which Sanjay Gadhvi informed me, served as one of the sources of inspiration for his spectacularly successful Dhoom 2 in 2006.
While getting inspired by films he grew up watching — like Krishna Shah's Shalimar — Gadhvi said it was imperative that he impose his own directorial stamp on the end-product.
Ironically, Sanjay Gadhvi revealed to me that he never wanted to make Dhoom. Dhoom was a space filler, a stopgap film. Kidnap was the first script of Shibani Bhatija (who wrote Karan Johar's Kabhi Alvida Naa Kehna and My Name Is Khan). This was the film I wanted to make for Yash Raj right after Mere Yaar Ki Shaadi Hai," he had said then.
"Adi suggested I team up with Shibani on Kidnap. The only one who could play the main role was Sanjay Dutt, but he told Adi he couldn't give dates before 2004. So I was at a loose end. Adi suggested a quickie featuring actors who were easily available to Yash Raj."
Gadhvi was supposed to start Kidnap right after Dhoom."But then the demand for a sequel to Dhoom was so high that I had no option but to make Dhoom 2. I wanted to make Kidnap. But Adi insisted I do Dhoom 2 and promised me that I'd do Kidnap and no one else would."
After doing three films for Yash Raj, Gadhvi moved out with the script of Kidnap.
"That's the way it works at Yash Raj. After three films all directors either move out or they become co-producers. Production isn't a responsibility I was willing to shoulder. I told Adi this. I wanted to walk on the wild side."
"Yash Raj was like the parents' home. I was the child that left home. And I got the script and title of Kidnap as a going-away gift."
But Gadhvi continued to be known as the Dhoom director right till his end.
Feature Presentation: Rajesh Alva/Rediff.com
Source: Read Full Article