Too bad the one time it is friendly to the environment, Tiger chooses to celebrate his Diwali with 'meetha' and not 'pathaaka', points out Sukanya Verma.
You know the Tiger is on its knees when its spoiler becomes its selling point.
Earlier this year, Salman Khan's star spy shenanigans sprang to Shah Rukh Khan's rescue in Pathaan when his surprise cameo and the twain's charismatic camaraderie resulted in serious nostalgic value as well set in motion the YRF Spy Universe co-starring War's Kabir (Hrithik Roshan). Truth be told, it was his own tired stardom that got a new lease of life.
Is it enough to feel excited about Tiger 3 — the third film in the series directed by Maneesh Sharma? While it doesn't have the wholesomeness of Kabir Khan's introduction to the character in Ek Tha Tiger, it avoids the pitfalls of Ali Abbas Zafar's exhausting follow-up Tiger Zinda Hai by way of intent.
Known for people-oriented stories like Band Baaja Baaraat, Shuddh Desi Romance and Fan, Sharma adds a few interesting touches in a big scale action masala. Both India and Pakistan have women at the helm of authority. Revathy's R&AW chief and Pakistani PM, played by Simran, cut a picture of grace and solemnity.
It's also rare for India to sit out any political conflict when Pakistan is in play. But in Tiger 3, the dispute is purely Pakistan's internal affair and the baddies are homegrown.
Soft nationalism, of course, pops up, what with our Indian hero saving the day but attributing it to 'damad' duties and likening the cross-border hostility to 'saas-bahu ki tu tu main main.'
Coming back to my original question — is it enough?
To a degree. Tiger 3, which begins like an Avengers standalone version of Zoya Origins, cruises along at a no harm, no foul pace in the excitement of its keenly anticipated superstar(s) cameo. Sit through the credits and you'll be duly (make that Duggu) rewarded.
Except in absence of novelty factor and sparkling wit, Pathaan's return of favour doesn't evoke the sort of hysterical applause my ears were dying to be deafened by.
Take it or leave it though, it's the only few minutes of dimpled charm and humour in Tiger 3's otherwise dead serious scheme of things.
Things steadily spiral down once Tiger and his nimble better half Zoya (Katrina Kaif) backed by their ragtag assistant team of Kumud Mishra and Co embark on a mission to save Pakistan from itself over the technicality of retrieving nuclear PAL codes from a megalomaniac named Aatish (Emraan Hashmi).
Like John Abraham's rogue agent Jim in Pathaan, it's a personal tragedy that fuels his deadly need for absolute power and domination. Except Emraan doesn't have the bearing of a formidable foe. There's nothing threatening about his stare or laughter. He has instincts but they're hardly killer.
Credited for its story, Aditya Chopra creates a drama of globetrotting cardboard cut-outs where betrayals are aplenty but their significance is little to none.
Be it the shakeable foundation of Tiger and Zoya's marriage or the appalling lack of dignity provided to characters from previous Tiger movies, in life or death, Tiger 3 recklessly runs from pole to pole without any real direction or drama. Ankur Chaudhry's sizzle-free dialogues only highlight these blunders as does director Sharma's inexperience in the genre.
There's a serious scarcity of dynamic action set pieces in a franchise that models itself on Hollywood style action. Nothing about Shridhar Raghavan's generic screenplay screams wonder.
Once again then, it's the fit and fabulous Katrina to the rescue with her super agile moves, whether kicking butt draped in a barely there towel at a Turkish hammam or wielding machine guns with her legs wrapped around the enemy's neck.
As her partner-in-dishoom dishoom, Salman Khan appears a lot more sombre than starry in his fourth iteration as Tiger. Crying not clobbering colours his portrayal, which earns extra brownie points every time he responds to any patriotism-peddling provocation with conspicuous silence.
Democracy or dictatorship? Choosing between the two forms the central theme of Tiger 3. In a better written movie, what was said in reference to Pakistan would serve as a wink if not wake-up call for its padosi mulks as well.
Too bad the one time it is friendly to the environment, Tiger chooses to celebrate his Diwali with 'meetha' and not 'pathaaka'.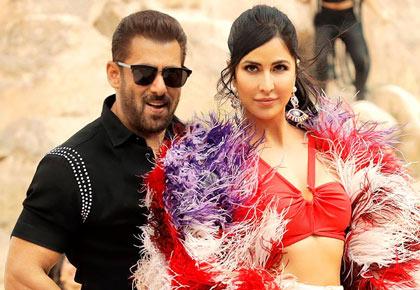 Source: Read Full Article