Assembly Election 2021, TMC Manifesto 2021 for West Bengal Election 2021 Live Updates: The Trinamool Congress faced a fresh bout of defections on Monday with five of its MLAs who did not get tickets crossing over to the BJP.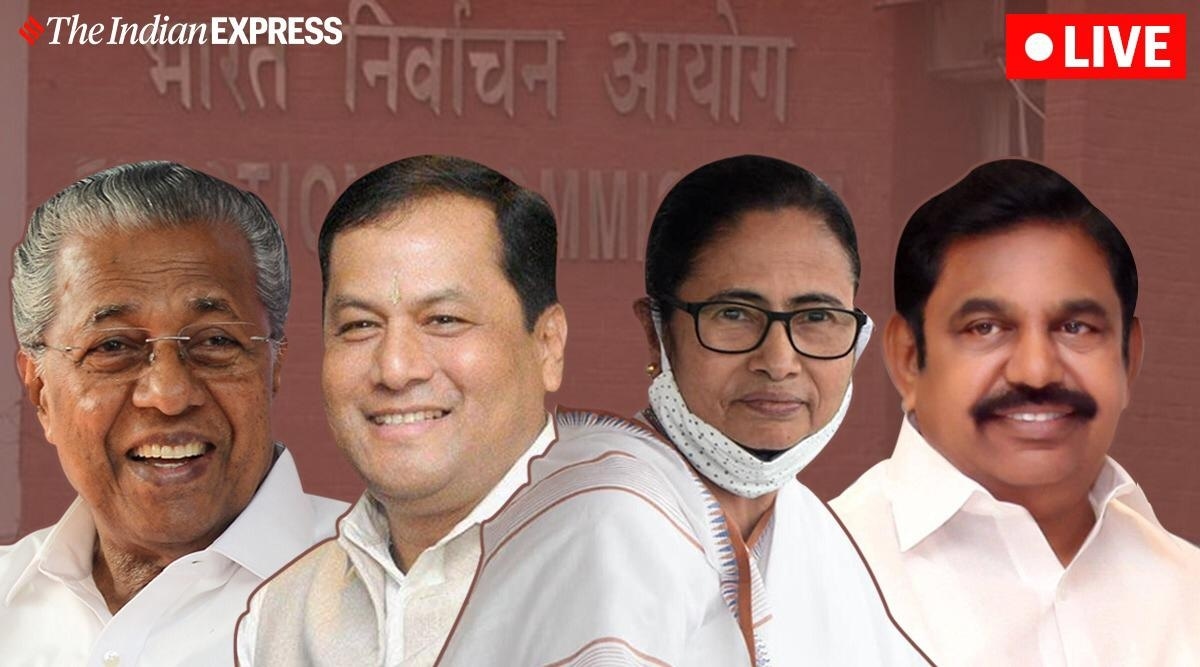 Elections 2021 Live Updates: The Mamata Banerjee-led Trinamool Congress is set to release its manifesto on Tuesday with main focus areas being employment and "pro-people" projects. Banerjee is scheduled to visit Nandigram and file her nomination on Wednesday, while Suvendu Adhikari is set to do the same on March 12.
The TMC faced a fresh bout of defections on Monday with five of its MLAs who did not get tickets crossing over to the BJP. West Bengal BJP president Dilip Ghosh, national vice-president Mukul Roy, Suvendu Adhikari and Locket Chatterjee welcomed the leaders to the saffron camp.
In Tamil Nadu, DMK on Monday capped off its seat sharing agreements by allocating six seats to CPI(M). After the deal, signed between DMK president MK Stalin and CPI(M) state secretary K Balakrishnan, the party has allotted 54 seats to its allies including 25 to Congress. Meanwhile, the ruling AIADMK is yet to make a conclusive deal with DMDK.
On ground in Kerala, Chief Minister Pinarayi Vijayan on Monday called Amit Shah the "embodiment of communalism", who is "ready to do anything to nurture communalism". This comes a day after Shah visited the state and threw questions to him on the gold smuggling case.
Assembly elections will be held in West Bengal, Tamil Nadu, Puducherry, Kerala and Assam at the end of this month and beginning of April. Results will be declared in May.
Assembly Elections 2021 Live News Updates: Trinamool Congress releases manifesto for West Bengal elections today; DMK allots 6 seats to CPI(M) for Tamil Nadu polls; Kerala CM Pinarayi Vijayan calls Amit Shah the "embodiment of communalism". Read latest news and updates on Bengal, TN, Assam, Kerala and Puducherry elections.
Prime Minister Narendra Modi is scheduled to address two public meetings in West Bengal on March 18 and 20, ahead of his visit to Bangladesh on March 26 to attend the golden jubilee celebrations of the neighbouring country's freedom. The two-day trip to Dhaka will be PM Modi's first foreign visit in 15 months.
Sources in the party said Modi would address a rally in Purulia on March 18 and another in Contai in Purba Medinipur district two days later. Nine Assembly seats in Purulia district and two seats in the Contai area will go to the polls in the first phase on March 27.
Purulia is important to the BJP as the party's turnaround in Bengal began there in the 2018 state panchayat polls. A number of BJP workers in the district, such as Trilochan Mahato and Dulal Kumar, were allegedly killed by Trinamool Congress (TMC) goons. Sources said the prime minister was likely to bring it up in his address.
A day after Union Home Minister Amit Shah threw questions at him, Kerala Chief Minister Pinarayi Vijayan on Monday made a scathing counterattack, calling Shah the "embodiment of communalism", who is "ready to do anything to nurture communalism".
Referring to Shah's allegation that a witness in the gold smuggling scandal had died under mysterious circumstances, Vijayan, kicking off the election campaigning in his constituency Dharmadam, in Kannur, said the state government is ready to investigate if it gets the details. "But I want to tell you, I was not lodged in jail for abduction. Who has faced (cases under) grave crimes of murder, abduction etc…. You have faced such cases. They were not false cases, as the ones you are trying to (foist on the state) now. Don't try to create smokescreen about the death of a witness.''(Read Shaju Philip's report here)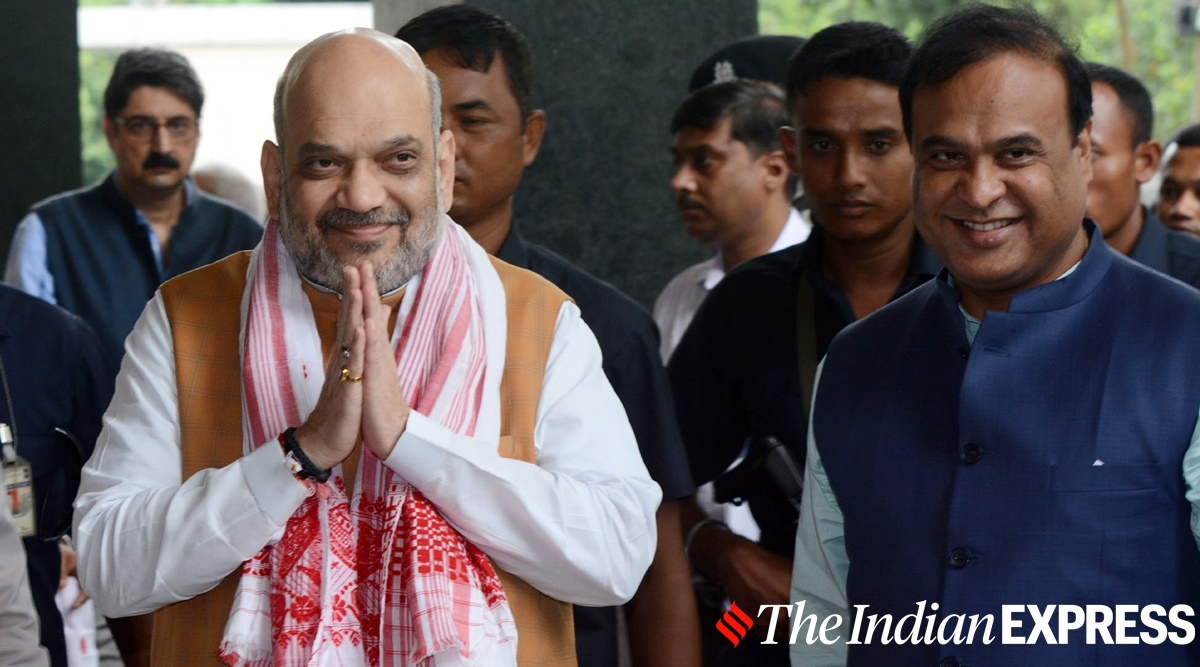 Amit Shah with Himanta Biswa Sarma in Guwahati in 2019 (Express Photo by Dasarath Deka)
Assam elections: A party for Mr Himanta Biswa Sarma
In a party with few stars beyond the Centre, he holds his own. In a government that he doesn't lead, he is sometimes credited with commanding more power than the Chief Minister. In a region that Delhi only infrequently remembers, he is a name with the most recall.
And, Himanta Biswa Sarma is just starting. Having got a ticket from the BJP to contest from his constituency Jalukbari, despite protestations otherwise, the 52-year-old is back in the CM sweepstakes. Can the party that he almost single-handedly hauled to power in 2016 in Assam deny him the prize he has long sought, in case of a win?
Mukul Roy: The pied piper in West Bengal Assembly elections
The former No. 2 of Mamata Banerjee, 66-year-old Mukul Roy is among the chief architects of the BJP's slow and steady build-up in West Bengal. This includes chipping away at the Trinamool's edifice, by helping the BJP wean away leaders from the party.
The party's national vice-president, Roy is now part of every frame in the BJP's Bengal campaign. If there is resentment over not being counted as among the chief ministerial hopefuls, Roy hasn't shown it, as he asserts the BJP's target: "Iss bar 200 paar (This time, more than 200 seats)." The West Bengal Assembly has 294 MLAs.
Roy started his political career as a Youth Congress leader, around the same time as Mamata Banerjee was part of the outfit. He was among the founding members of the All India Trinamool Congress when Mamata floated it in January 1998 after splitting from the Congress. Soon Roy emerged as the party's face in Delhi, and in 2006, was made its general secretary and earned a berth in the Rajya Sabha. In the UPA II government, he served initially as Minister of State, Shipping, before becoming Railways Minister — a portfolio Mamata held till she moved to Bengal as the CM.
Source: Read Full Article