Tejas has enough going on for it that would move you and make you weep, observes Mayur Sanap.
In one of the early scenes in Tejas, Kangana Ranaut's rookie pilot is about to get her hands on a fighter jet for the very first time. She is thrilled because becoming an air force pilot has been her ambition all along.
When her commander asks what does she see ahead of her, she plainly points out, 'Runway.'
As he reiterates the question, she pauses for a moment and sanguinely says that she can see a pathway to serve her nation.
He smiles and she jets off.
This scene sets the tone for debutant Director-Writer Sarvesh Mewara's Tejas, a film that doesn't shy away from wearing its nationalism on its sleeve.
Kangana plays Indian Air Force pilot Tejas Gill, who believes women and men are no different with respect to qualities like bravery and self-determination. As one of her seniors denotes about her, she is equipped in handling heavy-duty missions and won't play by the rules in the line of duty if need be.
Tejas is broken because of a personal tragedy in the past, and serving her nation is the only thing she knows.
When an Indian soldier is held hostage in Pakistan, she voluntarily signs up for a dangerous rescue operation. After the initial apprehension of her senior (Ashish Vidyarthi), Tejas gets to lead a covert mission with her piloting associate and friend Aafiya (Anshul Chauhan).
Tejas is not a biopic but it feels like one.
The way Kangana gets her heroic introductory shot, it is clear from the get-go this is her story, about her life. Later in the film, we learn from her proud papa that Tejas was a little girl when she decided to fly for the army. So far, so Gunjan Saxena.
The film shifts gears when the rescue mission takes the centrestage. This narrative template is inherently exciting because of dramatic tension it brings. Tejas gives that template an extra layer by bringing out the human side of its protagonist.
When we learn about the unfortunate event from her past, we are invested in Tejas' journey. Just before she sets off for mission, Tejas meets with the ailing mother of the soldier who adjures her to bring her son back home.
Moments like this set the emotional foundation for action set pieces to follow. To the director's credit, none of these turn into a sentimental fable and thankfully, he also desists from overt chest-thumping that's otherwise granted in this genre.
It is quite refreshing to see grand, rousing action moments as two women fiercely go all out to rescue a man. The aerial shots might be uninspired and the impact of special effects is certainly way below the mark but we buy into it because the drama is gripping enough.
What doesn't work is Shashwat Sachdev's brassy background score which generates odd results with the film's sombre, understated approach. The songs also feel distracting.
Kangana Ranaut is competent as a self-willed officer who impresses more in using her voice from a place of calm, rather than raging expression. This is yet another positive addition to the actor's repertoire but her uniform look aside, there is sporadic déjà vu about having seen this Kangana before.
Her steely righteousness and camera-facing, slow-mo walks are the same as Thaliavii and the action bits that take place in sand dune towards the climax look like extra cuts from Dhaakad.
What sells her performance here is the absolute conviction and honesty of her fully realised character. Tejas has a tempestuous past, she is vulnerable, shattered, agitated and yet, she stands resilient. Kangana understands these complexities and hits more right notes than wrong ones.
Matching up with Kangana's thunder, Anshul Chauhan renders an assured performance and lights up the screen every time as steadfast Aafiya. Watch her in one of the film's rare lighter moments where she nervously blabbers in front of Ashish Vidyarthi's stoic senior officer leaving him bemused. She is delightful!
Its technical inadequacy aside, Tejas has enough going on for it that would move you and make you weep.
As a genre piece, it has got great emotional appeal and a few welcoming ideas to cheer for.
That's a mission well accomplished.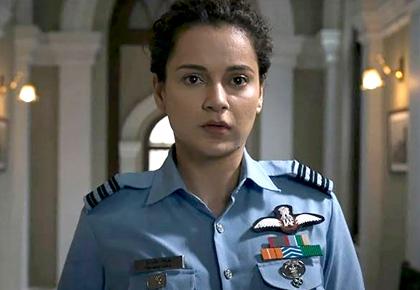 Source: Read Full Article